Happy Tuesday, Booklovers!

I'm super excited to share with you one of my favorite books of all time. "Deep Secret" by Diana Wynne Jones. Please enjoy!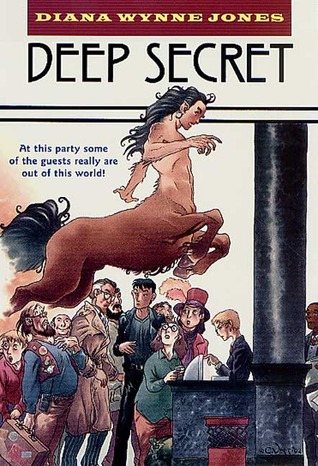 Title

: Deep Secret
Author: Diana Wynne Jones
Genre: Fantasy
Published: 1997


Synopsis:



Rupert Venables is a Magid.

It's a Magid's job to oversee what goes on in the vast Multiverse. Actually, Rupert is really only a junior Magid. But he's got a king-sized problem. Rupert's territory includes Earth and the Empire of Korfyros. When his mentor dies Rupert must find a replacement. But there are hundreds of candidates. How is he supposed to choose? And interviewing each one could take forever.

Unless...

What if he could round them all up in one place?

Simple!
THIS IS MY FAVORITE BOOK. EVER.
The moment I picked up "Deep Secret" by Diana Wynne Jones, I knew an epic love affair was about to begin. It always takes a chapter or two for me to feel really devoted to a book if I'm even going to be, but I was already googoo eyed over "Deep Secret" by the second page. It might be because Diana Wynne Jones is my literary angel, a woman I send prayers to when I'm stuck in a rut with my own writing or creative pursuits.
Deep Secret is the exact type of fantasy book that I love. Witty, fun, full of adventure, with a bit of romance and a twinge of sarcasm. Ms. Jones knows how to pull you into her beautifully developed worlds without going on and on and on about the landscape, or an outfit, or how Mr. Main character holds his lip just so and exactly how long when he's scowling at another character. She doesn't need all that flowery and unending description to make the world and the people completely come alive for the reader. This was Diana Wynne Jones' magic, and it's powerful in this book.
Fantasy conventions, alternate worlds, irritated magicians, ghosts, centaurs, evil plots, and secret heirs to the throne (so secret they don't even know who they are!). The romance is subtle and unexpected but I was cheering for the odd couple (won't tell you who, read the book) the whole way.
I basked in the realness of the main characters with all of their flaws and mistakes and perfectly reasonable negative reactions to some perfectly crappy happenings. "That's probably how I would have reacted too" was a frequent thought. I felt that I could have been a part of that story and at times I forgot that I wasn't. Looking up from a book and being
surprised
(and maybe a wee bit disappointed) to find yourself still sitting on the office couch? Pretty great, really.
I
need
more fantasy like this. Smart, creative, magical, fast-paced, and fun from cover to cover. "Deep Secret" made its way to the top of my list of favorites. How favorite is this book? Well, when the next person asks me "What is your favorite book", I'll be able to smile that little smile that only a Diana Wynne Jones book can inspire and say "Oh, that's easy..."
Until Next Blog,
Read On!
Let's Be Friends!