I've been reading up a storm, but there have been some series and books that I just don't have TOO much to say about. Not that they weren't good! Especially if I read a series very quickly, I seem to forget my individual reactions to each particular book and recall only an overall feeling of "Yay" or "Nay". Sometimes, I really just don't have that much to gab about, even if they were fan-girl screaming worthy. To give these books/series their bit of attention,
I've decided to post a number of short reviews all at once.
These
Petit Reviews
will give you a quick rundown on some of the things I've been read-chomping on lately, while simultaneously keeping me from having to come up with bunches of fluff when a quick splurp will do.
~ Enjoy ~
A Secret Rage
Title: A Secret Rage
Author: Charlaine Harris
Genre: Mystery/Thriller
Pages: 192

Publication: July 12, 1985


Summary:



Nickie Callahan can handle herself. But after a successful - yet brief - career as a model in New York City, she's looking forward to letting down her guard in the sleepy college town of Knolls, Tennessee. Living with her best friend, she plans on carving out a new future for herself by studying to be a writer. But the women of Knolls are not safe. And as Nickie gets swept up in a string of brutally violent crimes, she must take matters of justice into her own hands...
It's a dated read at the beginning of the author's writing career, but for fans of Charlaine Harris, it's definitely a must-experience. One of her first mysteries and the beginning of the trend of very strong female characters who have been through hell and have come back tough as steel.

If you can't discern from the cover and the title itself - the main mystery is centered around a brutal Rapist who is assaulting the women of small town Tennessee. There are several very very intense scenes that were difficult to read for their sheer heinousness but whatever sick feeling you get in your stomach is meant to be there.

Racism and sexism are also rampant, though absolutely and appropriately cast in a filthy light by the author. We know where Harris stands in regards to human rights straight out the gate. This isn't a woman with whom you should share an off-colored racist joke. (Though I'd advise you just don't do that ever. With anyone. Ever. Ever. ) The human rights/equal rights themes are recognizable in all of her works following this.

I was so disturbed by the topic that I couldn't find it in me to appreciate the mystery, though I did very much appreciate the depiction of many of the women who stepped up to take back control of their lives and finally bring the villain to justice themselves (with satisfyingly extreme prejudice).

I didn't enjoy this work as much as I enjoy Harris' later works but, as I mentioned before, any CH fan needs to experience this book. It feels much more raw than her later stories and is not in any way subtle.
Lily Bard Mystery Series
Title: Lily Bard Mysteries
Author: Charlaine Harris
Genre: Thriller/Mystery
Volumes: 5
Publication: 1996-2001


Summary:

Princess Winter is admired by the Lunar people for her grace and kindness, and despite the scars that mar her face, her beauty is said to be even more breathtaking than that of her stepmother, Queen Levana.

Winter despises her stepmother, and knows Levana won't approve of her feelings for her childhood friend—the handsome palace guard, Jacin. But Winter isn't as weak as Levana believes her to be and she's been undermining her stepmother's wishes for years. Together with the cyborg mechanic, Cinder, and her allies, Winter might even have the power to launch a revolution and win a war that's been raging for far too long.

Can Cinder, Scarlet, Cress, and Winter defeat Levana and find their happily ever afters?
A courageous but very damaged main character navigates her way through healing and trying to create a life after catastrophe. Lily is a hard hard MC. There's hardly any softness to her at all, which can be expected from a character who has endured so much. Sometimes, though, the hardness of her character impedes some of the story progression, and for things to move forward Harris has to throw in a moment of vulnerability, which feels off and odd for Lily in some instances.
So many trigger warnings - Rape, Violent Sexism, Violent Racism, Domestic Abuse, and mental illness.
Harris does not tiptoe delicately around these topics, but instead shoves them in your face in a way that keeps you from being able to turn away from it. You can't shrug a shoulder or push it to the back of your mind for the rest of the read, it's always stalking right in the forefront, angry and meaningful. It's intense.
Admittedly, the end of the series did not satisfy me. With the Aurora Teagarden Mysteries and the Southern Vampire Mysteries, there was a neat little tie up and a chance for a happily ever after for the main character even after all the tragedy and turmoil, but I felt that the Lily Bard series ended abruptly and there were a few things that weren't resolved as far as her recovery. It's probably selfish of me to want this, but after all the MC had been through, I really wanted things to end on a settled, happy-ish note for her. Instead, Harris took a very realistic "We're not sure how this is going to go. Maybe it'll be good. Maybe not. Maybe it'll be happily ever after... but that's hard to say." approach.
Also, why the heck don't you leave Shakespeare, Lily? There's some seriously weird shiznet going down all the time, and by this point so many people have died that it's absurd to think no one is thinking about moving. Get the heck out already! Take Jack by the arm and flee! But, that's not really Lily's character, I guess. She's more of a stand and face it type gal, which is something to be respected.
Forbidden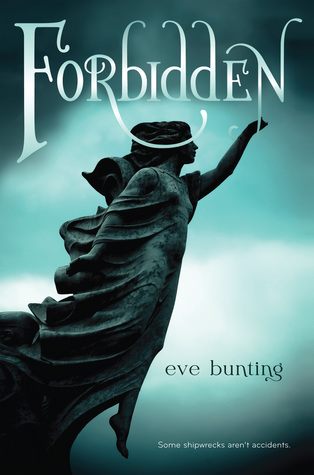 Title: Forbidden
Author: Eve Bunting
Genre: YA Paranormal Mystery
Pages: 224
Publication: December 1, 2015


Summary:

Sixteen-year-old Josie Ferguson has just lost both her parents. She is sent to live with an unknown aunt and uncle in a town on the stormy northwest coast of Scotland. But the townspeople, including her relatives, are as cold and hostile as the sea.

Josie has never felt so alone.

Then Eli appears. Mysterious but kind—and handsome—he sparks a desire in Josie unlike anything she has ever experienced. Even though she's been warned that Eli is forbidden, she can't stop thinking about him.

And the locals are harboring a secret. When curious, determined Josie sets out to uncover it, the truth is more horrific than she could have imagined.

It's a truth terrible enough to raise the spirits of the dead.

After reading some of the reviews, I wasn't expecting to love this story. I very much did. Yes it's speedy, but it reads like the ghost stories I used to love as a little girl and it has the same sort of pacing. There's no need to draw it all out into 500 pages, the 200+ pages were plenty and the author talented enough to bring the story alive and conclude it sufficiently in that space.

It was easy to read "Forbidden" straight through because there were no plot lulls. The action/mystery were consistent. Questions never answered until the very end keep the reader hanging on. The story boasts a very persistent forward movement towards a resolution, which is all at once horrendous, sad, and fleetingly romantic (as ghost stories sometimes like being).

I would absolutely recommend this book to anyone who enjoys a quick, spine-tingling tale of murder, ghosts, and retribution...with a dash of young love. Especially if such tales are set in 19th century Scotland.


That's all for this first installment of Auggie's Petit Reviews!
Let's Be Friends!
Auggie is the 2

9

year old whirlwind owner of Auggie-Talk. A bibliobibuli by nature

and

a (potentially obsessive) lover of Diana Wynne Jones and Neil Gaiman. Not so secrety

s

ecret: She's been known to

consume too

much caffeine leading to hyperactive rants about her heinous lack of shelving and the high

likelihood

that Hermione Granger is her spirit ani

mal.