Happy Sunday, Bookworms!
Today marks the first day of the

#TomeTopple

read-a-thon! Did you sign up to participate? Are you ready to read those massive 500+ page books you've been putting off lately?

Time to put a serious dent in you reading pile, bookloves! Good luck!
I'll be posting periodic updates on the blog, so keep a lookout. For now, here's a review!


~ Enjoy ~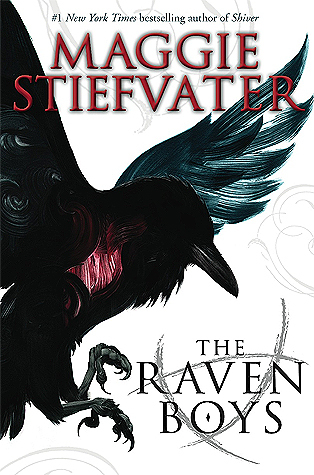 Title: The Raven Boys
Author: Maggie Stiefvater
Genre: YA Paranormal
Publication: September 18, 2012
Pages: 409

Synopsis:

Every year, Blue Sargent stands next to her clairvoyant mother as the soon-to-be dead walk past. Blue never sees them--until this year, when a boy emerges from the dark and speaks to her.

His name is Gansey, a rich student at Aglionby, the local private school. Blue has a policy of staying away from Aglionby boys. Known as Raven Boys, they can only mean trouble.

But Blue is drawn to Gansey, in a way she can't entirely explain. He is on a quest that has encompassed three other Raven Boys: Adam, the scholarship student who resents the privilege around him; Ronan, the fierce soul whose emotions range from anger to despair; and Noah, the taciturn watcher who notices many things but says very little.

For as long as she can remember, Blue has been warned that she will cause her true love to die. She doesn't believe in true love, and never thought this would be a problem. But as her life becomes caught up in the strange and sinister world of the Raven Boys, she's not so sure anymore.

I put off this read for a very long time. Truly, the reason is because I started listening to the Audio book about a year ago during my commutes to work and it just WASN'T ringing any bells for me. With the release of the final book in this series, I thought it was time that I give it another try. This time by reading it. The book started out slow for me. I wasn't entirely sure that I was going to enjoy it, but I pushed forward because I had to know what all the fuss was about.

Honestly, I don't think I would have kept reading past the middle if it hadn't been for Ronan. Ronan was an immediate favorite, because he reminds me so much of someone I love very deeply. Ronan kept me reading and not long after the halfway point I found myself naturally enjoying the actual story. By the end of this first installment of "The Raven Cycle" I was invested in the plotline and was VERY curious about finding out what the mess was going on with all of the energy, ley lines, witchy spells, and MURDER.

I'm also very glad that I didn't read this series when it was still being written. It would have given me hives to think I had to wait an entire year for the next book in the series to come out. Now I don't have to wait at all, they're all ready to be read!

Blue is the type of YA female character that I really appreciate - despite her abilities she seemed like a much more substantial character than some FMCs I read. Her desire for adventure is tremendous and contagious and she's written as being DIFFERENT in a way that isn't very different at all. She's splendid at being unique, as though that were the most normal thing to be. I appreciated that Stiefvater didn't spend a significant amount of time talking about how others reacted negatively to Blue or her family, the omission of bullying or Blue's negative experiences with "normal" people sent a message loud and clear - "Different isn't bad. No one cares as much as you think they do. Different is normal and no one's paying any damn attention to what you do, so just do it."

It also highlighted Blue's comfort with herself, despite the fact that she has regular self conscious moments. She's a pretty self-aware type of character, and I love that.

Speaking of characters... there were MANY of them. However, they all seemed to have a very firm place carved out for them in the overall storyline. No one felt out of place or space-filling. The consequence of making every character important in someway is that I CARE about every character in some way, which definitely helped keep things moving after the halfway mark.

A very intriguing tale that I can't wait to continue with "The Dream Thieves".
Let's Be Friends!
Auggie is the 2

9

year old whirlwind owner of Auggie-Talk. A bibliobibuli by nature

and

a (potentially obsessive) lover of Diana Wynne Jones and Neil Gaiman. Not so secrety

s

ecret: She's been known to

consume too

much caffeine leading to hyperactive rants about her heinous lack of shelving and the high

likelihood

that Hermione Granger is her spirit ani

mal.