Happy Sunday, Bibliobabes!

My house is full of beasts. I currently have 4 dogs, 1 cat, and a husband running around here (I'm kidding, darling.) We're dog sitting for my parents while they're away on an awesome vacation so it's practically a zoo. Ah well, what makes life more interesting than a bunch of lunatic dogs and a stuck up cat?

Speaking of things that make life more interesting (Bow to the Queen of Segue), I'm very much looking forward to sharing with you my review of "The Wrath and the Dawn" by Renee Ahdieh.

I'm also very much looking forward to the second in the series which will release on April 26!

Enjoy!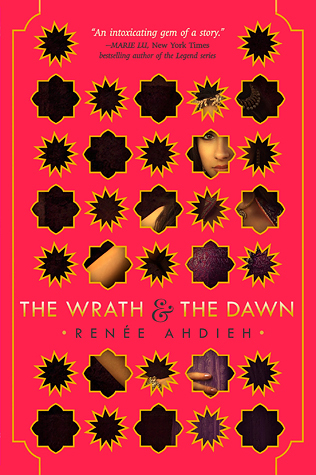 Title: The Wrath & The Dawn
Author: Renee Ahdieh
Genre: YA Retelling
Publication: May 12, 2015
Pages: 395

Synopsis:

One Life to One Dawn.

In a land ruled by a murderous boy-king, each dawn brings heartache to a new family. Khalid, the eighteen-year-old Caliph of Khorasan, is a monster. Each night he takes a new bride only to have a silk cord wrapped around her throat come morning. When sixteen-year-old Shahrzad's dearest friend falls victim to Khalid, Shahrzad vows vengeance and volunteers to be his next bride. Shahrzad is determined not only to stay alive, but to end the caliph's reign of terror once and for all.

Night after night, Shahrzad beguiles Khalid, weaving stories that enchant, ensuring her survival, though she knows each dawn could be her last. But something she never expected begins to happen: Khalid is nothing like what she'd imagined him to be. This monster is a boy with a tormented heart. Incredibly, Shahrzad finds herself falling in love. How is this possible? It's an unforgivable betrayal. Still, Shahrzad has come to understand all is not as it seems in this palace of marble and stone. She resolves to uncover whatever secrets lurk and, despite her love, be ready to take Khalid's life as retribution for the many lives he's stolen. Can their love survive this world of stories and secrets?

Inspired by A Thousand and One Nights, The Wrath and the Dawn is a sumptuous and enthralling read from beginning to end.


To be honest, there were parts of this book that were TREMENDOUSLY slow to me
(mostly it was anything having to do with Tariq's trek through the desert)

. However, I looked over that because the rest of the story was so well done and vibrant that it made up for the slow bits entirely. It's been a long time since I've read a YA that was so GORGEOUSLY written.

The world building is superb. I could see the sights and FEEL everything without being overrun with pages of needless detailed description, which have potential to kill the mood.

Sure, I've read stupendous YA that had a fantastic story line and fantastic characters and just made me want to squeal in joy, but very few have reached this level of dazzle. It wasn't just the wildly beautiful descriptions of the clothes and the palace and the smells, it was the digging in to the heart of the MC and her relationships to those around her. It was taking an evil character and making him a tortured man, just trying to do the best thing in a horrible situation.

Sharazad experiences extravagant growth as an MC, and the reader is asked to accept along with Shazi that there are sometimes hidden sides to stories that change everything.

All supporting characters were fascinating in their own right, and held their solid place in the story line without fuzzying things up . The romance aspects were tumultuous and tender, riotous and passionate. What's lovely, is that we're not only presented a tale about the power of love just between two tormented young people, we are asked to consider how love influences everything - family, friends, and nations.

I've never been a fan of the "A Thousand and One Nights" tale, merely because I could never bring myself to be okay with the fact that Shaharazad is married to an actual psycho serial killer whose only reasons for murdering innocent young women was ego. Not romantic. Not cute. Scary. It's just scary. Khalid on the other hand is stuck between a rock and a hard place where all options lead to mass death, but some lead to LESS death than others. Readers aren't given a chance to be self righteous about the situation, because there's no right/good answer, at least there doesn't seem to be one until Shaharazad comes along.

Truly dazzling. A riveting, heart thumping adventure that takes us into a dizzier and more complex perspective of "One Thousand and One Nights". I'm very excited to read the next installment! WELL DONE Ms. Ahdieh!
Let's Be Friends!
Auggie is the 2

9

year old whirlwind owner of Auggie-Talk. A bibliobibuli by nature

and

a (potentially obsessive) lover of Diana Wynne Jones and Neil Gaiman. Not so secrety

s

ecret: She's been known to

consume too

much caffeine leading to hyperactive rants about her heinous lack of shelving and the high

likelihood

that Hermione Granger is her spirit ani

mal.