Happy Saturday, Biblionerds!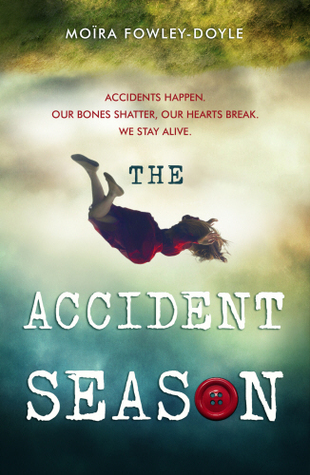 Title: The Accident Season
Author: Moira Fowley-Doyle
Genre: YA Suspense
Publication: August 18, 2015
Pages: 280

Synopsis:

It's the accident season, the same time every year. Bones break, skin tears, bruises bloom.

The accident season has been part of seventeen-year-old Cara's life for as long as she can remember. Towards the end of October, foreshadowed by the deaths of many relatives before them, Cara's family becomes inexplicably accident-prone. They banish knives to locked drawers, cover sharp table edges with padding, switch off electrical items - but injuries follow wherever they go, and the accident season becomes an ever-growing obsession and fear.

But why are they so cursed? And how can they break free?


This is going to be a short one because I was really in the middle of the road on this one. Fantastic story, decent execution. Keeps you guessing.

VERY confusing in general, though. A bit muddled in the build up. Very open ending, but certainly leaves you in zero doubt that the main characters will probably need years of therapy.

A cross between a ghost-story and a real-life horror story. Not too bad, but filled with plenty of "WTF is going on?" moments and not in the "That's so interesting!" way, but in more of a "I really can't follow what's happening here..." way.

The ending was very "Pan's Labyrinth", forcing the reader to question whether or not it was all real or all imagined... with zero evidence to make a solid conclusion either way. Pretty clever. I think that little twist at the end definitely makes the story a worthwhile one.

This would make a great discussion/book club book for groups of teens or adults. A warning, though, younger teens may not be ready for the issues and subjects addressed - rape, murder, child abuse, self-harm.
Despite the 3 star rating for this particular read, I did enjoy Ms. Fowley-Doyle's writing and would definitely look in to her future works!
Let's Be Friends!
Auggie is the 2

9

year old whirlwind owner of Auggie-Talk. A bibliobibuli by nature

and

a (potentially obsessive) lover of Diana Wynne Jones and Neil Gaiman. Not so secrety

s

ecret: She's been known to

consume too

much caffeine leading to hyperactive rants about her heinous lack of shelving and the high

likelihood

that Hermione Granger is her spirit ani

mal.