Happy first day of March, Booknerds!
I got a bit of a head start on my ARC reading. Things are already looking good for goals this month! I've still got a bit of that "Yugh" feeling roiling around, so I'm not at 100% yet. At least I'm finally enjoying books again.
I'm about to put myself on an internet probation.
Basically anything that doesn't have to do with books or the blog is about to be banned for a while.
I'm grounding myself.
The internet has gotten TOO wacky lately, and I find that the only thing I enjoy anymore is browsing book blogs and haunting Netgalley and Edelweiss!
Nothing wrong with that, right?! You'll probably be seeing me around a lot more on the other book platforms and I'll finally catch up on commenting on the blogs I love!
Anyway, here's my first ARC review for march. Kindly, this copy was provided to me by Netgalley. Enjoy!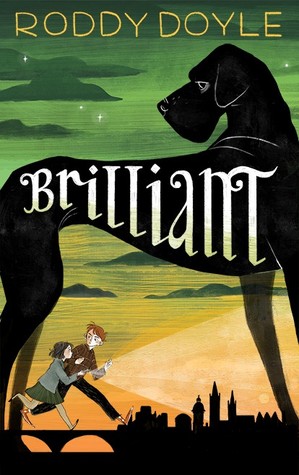 Title: Brilliant
Author: Roddy Doyle
Genre: Middle Grade Fantasy
Publication: September 8, 2015
Pages: 192

Synopsis:

The Black Dog of Depression has descended over the adults of Dublin. Uncles are losing their businesses, dads won't get out of bed, mothers no longer smile at their children. Siblings Raymond and Gloria have had enough and set out one night with one goal in mind: to stop the Black Dog, whatever it takes. In a chase through the streets and parks and beaches of Dublin, the children run after the Black Dog, and soon dozens, then hundreds, then thousands of kids join in their fight. They discover they have one weapon against the Black Dog. The weapon is a word: "brilliant."

Illustrated throughout by a bright new talent and told through the masterful dialogue for which the acclaimed Roddy Doyle is known, Brilliant is a very special book with a storybook feel.
My feelings about this book went back and forth quite a bit. There were bits that I really really enjoyed, that gave me goosebumps, that even made me tear up! Yet, I kept thinking about how I would have felt about this book as a young reader. I doubt I would have been able to understand a lot of the more adult concepts such as the financial stress of a mortgage. Nothing wrong with an adult having to explain a little further, but as a kid I probably wouldn't have asked anyone for clarification.

That bit in particular was a small thing in comparison to some of the choppiness of the writing style. I found myself wondering a few times if I'd missed a paragraph, or if I'd skipped ahead by accident. Also, the placement of the illustrations was confusing. I've never read an illustrated story whose pictures didn't match with the goings on of each individual page. Instead I would see an illustration depicting a scene that had happened a few pages before, or that wouldn't happen until I turned the page.

It was a very simple story about a very serious issue, but that isn't a criticism. This story creates a fantastic adventure out of a real hardship that we can't always protect our children from, or explain to them. It's this story of unwavering hope and determination, the kind adults seem to lose, facing impossible odds and winning. It's children seeing the world a little differently and working their own type of magic to make things right.

As an adult reading the book, I think the power is seeing these children lightening up a dark world. As someone who wants to be a mom, reading this book gave me a fantastic feeling of optimism. Like there's going to be this child who knows better than me in some ways, because they can see things and feel things in a way we adults just can't anymore. Children are like this desperate, shrieking, gigging, unrelenting ray of sunlight in a future that occasionally feels scary and gloomy to us grown-ups.

One of the reasons I couldn't give this above a three, was because I couldn't see myself offering this book to a kid to read. It felt like it was meant for me to read, the clueless adult who needed a reminder. I struggled to grasp what age group this book was meant for (very simple story = much younger reader. Serious and more difficult emotional topics = older) But I'm sure any MG reader would be happy for an adventure where the heroic and unrelenting kids win in the end. Would be a good book for a parent and kid to read together.
Let's Be Friends!
Auggie is the 2

9

year old whirlwind owner of Auggie-Talk. A bibliobibuli by nature

and

a (potentially obsessive) lover of Diana Wynne Jones and Neil Gaiman. Not so secrety

s

ecret: She's been known to

consume too

much caffeine leading to hyperactive rants about her heinous lack of shelving and the high

likelihood

that Hermione Granger is her spirit ani

mal.