Hello there, Bibliodarlings!
I'm giving away One Month of OwlCrate! Jan 1-31! Check out there Giveaway here.
It's the first review of the year! I went through all of the books that I hadn't reviewed last year and I made a decision, I'm not going to back track on them.
The Reviews for 2016 will be all for books that I read this year.
There are some very very exciting things happening for me already, but as per my New Years Resolution, I'm not going to let the blog get off kilter again. So I've created a schedule and have many lovely things set to be posted!
Just an FYI:
The "REVIEWS 2016" tab will not be available for another week or so, as I'll be trying to redesign the"Books!" page.
So here it is! First review of 2016!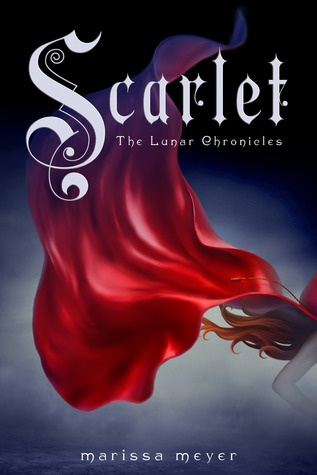 Title: Cinder
Author: Marissa Meyer
Genre: YA Retelling
Publication: February 5, 2013
Pages: 452

Synopsis:

Cinder, the cyborg mechanic, returns in the second thrilling installment of the bestselling Lunar Chronicles. She's trying to break out of prison—even though if she succeeds, she'll be the Commonwealth's most wanted fugitive.

Halfway around the world, Scarlet Benoit's grandmother is missing. It turns out there are many things Scarlet doesn't know about her grandmother or the grave danger she has lived in her whole life. When Scarlet encounters Wolf, a street fighter who may have information as to her grandmother's whereabouts, she is loath to trust this stranger, but is inexplicably drawn to him, and he to her. As Scarlet and Wolf unravel one mystery, they encounter another when they meet Cinder. Now, all of them must stay one step ahead of the vicious Lunar Queen Levana, who will do anything for the handsome Prince Kai to become her husband, her king, her prisoner.
A very solid 4/5 for me.
Little Red Riding Hood Retelling.
Scarlet is the grand-daughter of a veteran pilot, one with an incredible secret. When grandmother is kidnapped by a seemingly rogue group of ruffians, Scarlet swears she'll do everything she can to track the monsters down and rescue her only real family. Enter Wolfe, a man of obvious strength and questionable stability. He's been beating guys bloody in brawls right before Scarlet's eyes, and seems to be in with the group of crazies that absconded with her grandmere, but he's offering help and she has no other choice.
Off they go to uncover the secrets of Wolfe's clan and rescue Scarlet's grandmother, who may be key to Cinder's past.
First off, I have to admit that Scarlet was not as good as Cinder. It took me well over half the book to really get in to Scarlet's story enough to actually care about the character. Wolfe was much more interesting, because there was mystery and depth to him. Scarlets character was very "everything on the table". The reader knew who Scarlet was as a person pretty much in the very beginning. No surprises, no wondering "What's she really all about?". A bit flat.
I was much more interested in what was going on with Cinder throughout the majority of this second installment. What's her plan? What danger is she in now? How is she going to get herself out of THIS mess? How will this change her? Will she uncover her past? All of these pressing questions going through my mind while I'm slogging through a train ride with Scarlet and Wolfe.
Thankfully, when I expressed my distress to the book community I received a lot of feedback concluding that "Scarlet" was many a reader's least favorite book in the Lunar Chronicles series. I was promised that it would get better and encouraged to stick it through.
True to the feedback, around 3/4 of the way through Scarlet and Wolfe's storyline FINALLY got good and I was rooting for them in tandem with cheering for Cinder and her team.
The entire while I'm hating on the Lunar Queen and grasping my stomach over the atrocities she commits without even a twitch of the eye. Psycho, thy name is Levana. It was most interesting to discover that the Queen has some truly gnarly things in store for Cinder and her crew including a genetically altered soldiers who are nearly more animal than anything else. *shudder*
Though it took me a long time to love Scarlet, I eventually relented and found my soft spot for the red-headed spitfire pilot.
This book, like "Cinder", was phenomenally penned and the world building was spectacular.
I'm very much looking forward to the 3rd book in the series, "Cress".
Let's Be Friends!
Auggie is the 2

9

year old whirlwind owner of Auggie-Talk. A bibliobibuli by nature

and

a (potentially obsessive) lover of Diana Wynne Jones and Neil Gaiman. Not so secrety

s

ecret: She's been known to

consume too

much caffeine leading to hyperactive rants about her heinous lack of shelving and the high

likelihood

that Hermione Granger is her spirit ani

mal.