Happy Friday, Bibliodarlings!
Review today! This one in particular I read quite a while back, closer to Halloween. Quite scary but if you're into frightening reads then I do highly recommend this one!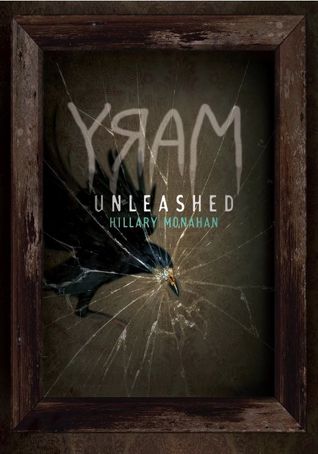 Title: Mary Unleashed
Author: Hillary Monahan
Genre: YA Horror
Publication: September 8, 2015
Pages: 245

Synopsis:

Mary in the mirror.
Mary in the glass.
Mary in the water.

Mary lurks in the emptiness, in the darkness . . . in the reflection. That is, until Jess unleashes her into the world. Now Mary Worth is out and her haunting is deadlier than ever.

No one is safe.

Shauna, Kitty, and Jess must band together to unearth the truth about Mary's death to put her soul to rest for good. Their search leads them back to where it all began-to Solomon's Folly, a place as dangerous as the ghost who died there a century and a half ago. Quick sand, hidden traps and a phantom fog are the least of their worries. To stop Mary, they need to follow a dark string of clues and piece together a gruesome mystery that spans generations.

But time is running out.

As chilling facts come to light, Mary inches ever closer to her prey. Can Jess, Shauna, and Kitty break Mary's curse before it's too late? Or will history repeat itself until there is no one left to call her name . . . ?
Egads! *shudders*
I think that there are very few books that I've ever read that have made me so shaky. To be quite honest with you, I hate horror. I just do. I don't like being terrified. I do like being creeped out, and I love a good creepy read. However, there's a difference between creepy and freaking terrifying.
Mary Unleashed definitely fell into the latter category. Bloody Mary has always been a sinister and blood curdling story. What kid hasn't been tempted to try calling out to Mary in the mirror during a party or even just one night when you didn't have anything better to do? How many kids actually managed to do it without screeching or nearly passing out? Few I'd wager.
This book is absolutely not for the faint of heart. It's completely gruesome, but I kept reading because I wanted to know if the girls were successful in defeating Mary Worth, the antagonist.
Back in the first installment of this two part story, a bunch of unsuspecting girls play a party game and unwittingly release the decaying and vengeful Mary Worth into the world through the mirror. What they didn't realize is that once Mary draws blood from ANYONE she'll haunt them forever, either until she draws blood from someone else or she successfully murders her victim.
Mary isn't too picky though, she'll kill other people too if they're anywhere near her when she comes to claim her blood prize. The only person she won't attack? A mom. The only little human piece of Mary that's left is the love of her own mother.
You try so hard to understand how Mary could become so horrible, but just as you start to feel sorry for the ghost she does something truly disgusting reminding you that it's impossible to appeal to her humanity. There's none left, and the girls are all in danger. Of the "about to be murdered by a ghost" variety.
The plot was well played out and Mary's backstory was a great new perspective, touching on issues like abuse and bullying and turning Mary's origin story into a tragedy not of her own making.
A talented second and final installment to a very fascinating new look at the Bloody Mary story.
Until Next Blog,
Read On!
Let's Be Friends!
Auggie is the 2

9

year old whirlwind owner of Auggie-Talk. A bibliobibuli by nature

and

a (potentially obsessive) lover of Diana Wynne Jones and Neil Gaiman. Not so secrety

s

ecret: She's been known to

consume too

much caffeine leading to hyperactive rants about her heinous lack of shelving and the high

likelihood

that Hermione Granger is her spirit ani

mal.