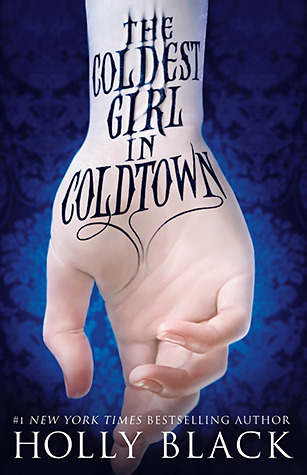 Title: Coldest Girl in Coldtown




Author: Holly Black




Genre: Ya Supernatural




Publication: September 3, 2013




Pages: 419




Summary:
Tana lives in a world where walled cities called Coldtowns exist. In them, quarantined monsters and humans mingle in a decadently bloody mix of predator and prey. The only problem is, once you pass through Coldtown's gates, you can never leave.

One morning, after a perfectly ordinary party, Tana wakes up surrounded by corpses. The only other survivors of this massacre are her exasperatingly endearing ex-boyfriend, infected and on the edge, and a mysterious boy burdened with a terrible secret. Shaken and determined, Tana enters a race against the clock to save the three of them the only way she knows how: by going straight to the wicked, opulent heart of Coldtown itself.

The Coldest Girl in Coldtown is a wholly original story of rage and revenge, of guilt and horror, and of love and loathing from bestselling and acclaimed author Holly Black.
Fantastic! Highly Recommend!
I might as well just come right out and admit that I really love a good vampire book. But to be honest, I didn't think I was really going to like this book. It had found a place in my "meh" pile for far too long and I decided it was just time to take the plunge and if I hated it…well then at least I would know.
I didn't end up hating it, as I'm sure you can demise from the 5 quills that I am giving this book. I was delightfully enthralled from the very first page. I remember stopping and thinking, "Wow, now that is a kick-ass line." I am pleased to report that I had that same thought many many times as the story progressed. The Coldest Girl in Coldtown was wonderfully dark with veins of romance expertly injected throughout that had me beyond intrigued. Page after page flew by and suddenly it was five hours later and I was reading the last line. Yeah, needless to say, I was hooked.
Our main character, Tana, wakes up to find that she has slept through the slaughter of a house full of people after she passed out in a bathtub during a party the night before. With blood and dead bodies all around her, Tana goes in search of her belongings so she can get the hell out of there as fast as her nearly hyperventilating body can carry her…only to find her ex-boyfriend tied to bed, infected, and a cute vampire chained in the corner. From that point on, I was just a happy passenger along for the ride.
I loved the colorful characters that were littered throughout this book. My favorite would have to be Gavriel, the aforementioned cute vampire mentioned above, and seemingly crazy about half the time. Tana was a well-developed character with admiral qualities. She didn't just sink into a puddle and allow herself to always be rescued…she did a lot of the rescuing.
As my first Holly Black book, I am pleased to say that she has won me over. My only complaint is that this book isn't a part of a series because I am desperate to know what happens next. Sigh, I will come to accept that I shall never know in time.
Happy Reading Lovelies!
~Tori
Tori is a 24 year old tiny oddball of a woman who ardently loves rainy days and festive repartee. A college graduate, she holds a degree in communications with an emphasis on writing for media. Tori is currently an Assistant librarian working towards getting her Master's in Library Science. You will not find it surprising that this Auggie-Talk Co-Blogger is a passionate devotee of impulsive bookstore perusing and reading far past the point of exhaustion.