Happy Saturday Book Babes!
Let's have a review today, shall we? Lovely!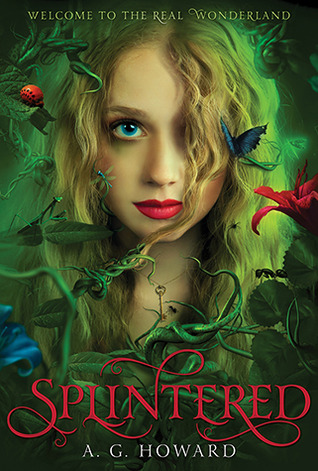 Title: Splintered

Author: A.G. Howard

Genre: YA Fairytale Retelling

Publication Date: January 1, 2013




Summary:




This stunning debut captures the grotesque madness of a mystical under-land, as well as a girl's pangs of first love and independence.

Alyssa Gardner hears the whispers of bugs and flowers—precisely the affliction that landed her mother in a mental hospital years before. This family curse stretches back to her ancestor Alice Liddell, the real-life inspiration for Lewis Carroll's Alice's Adventures in Wonderland. Alyssa might be crazy, but she manages to keep it together. For now.

When her mother's mental health takes a turn for the worse, Alyssa learns that what she thought was fiction is based in terrifying reality. The real Wonderland is a place far darker and more twisted than Lewis Carroll ever let on. There, Alyssa must pass a series of tests, including draining an ocean of Alice's tears, waking the slumbering tea party, and subduing a vicious bandersnatch, to fix Alice's mistakes and save her family. She must also decide whom to trust: Jeb, her gorgeous best friend and secret crush, or the sexy but suspicious Morpheus, her guide through Wonderland, who may have dark motives of his own.
Entertaining/Pleasant Read
I'm going to be very honest about this one, because I was disappointed (Though I definitely didn't hate the book). I love Alice in Wonderland... so very much... and I was looking forward to something creepy and wonderful and curious and outrageous! I didn't get that. I got a punk-rock skater reimagining of an R.L. Stine Horrorland.
There were some moments of "Oooh! Clever!", but I think that by trying to make Wonderland so terrifying, it truly lost the magic that made it spectacular and strange.
Darker retellings of Wonderland can be spectacular but I wasn't jiving with this one. I felt like the wondrous and curious aspects of Wonderland got completely overshadowed by the gruesome. I just kept feeling this book was screaming "I'M SO HARDCORE!"
However, I think that my largest struggle with this book was that the main character, Alyssa, got on my nerves. She reminded me of that girl from Sucker Punch, just a lot more sexually frustrated. Also... Jeb can GTFO, as far as I'm concerned. If he tries to coddle Alyssa ONE MORE TIME I am going to scream. Morpheus shows signs of being a manipulative jerk-face too, but at least he's all like "Alyssa, you're strong and can do what you want!" and not "I man thing, you girl thing! You weak, and fragile, and possibly stupid! Must protect!"
Ok. I've ranted enough. As you can tell from my 3 start rating, I didn't HATE this book.
A.G. Howard is obviously a very talented author and as far as story telling goes... well, let's just say I knew I was in for the long haul after the first few chapters, and wanted to keep going even as I was getting annoyed. Even though this particular retelling didn't float my boat the way I hoped it would I'm certainly interested in reading the second book. I can see this possibly becoming a series that I actually love the further into it I read. I hope.
So, how did you feel about this Punk-Alice retelling?
Until Next Blog,
Read On!