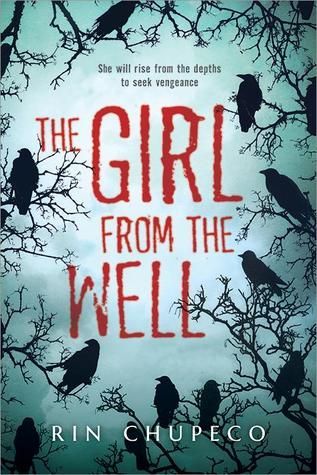 Title:

The Girl From The Well





Author: Rin Chupeco





Genre: YA Horror





Publication: August 5, 2014





Pages: 267






Summary:
You may think me biased, being murdered myself. But my state of being has nothing to do with the curiosity toward my own species, if we can be called such. We do not go gentle, as your poet encourages, into that good night.

A dead girl walks the streets.

She hunts murderers. Child killers, much like the man who threw her body down a well three hundred years ago.

And when a strange boy bearing stranger tattoos moves into the neighborhood so, she discovers, does something else. And soon both will be drawn into the world of eerie doll rituals and dark Shinto exorcisms that will take them from American suburbia to the remote valleys and shrines of Aomori, Japan.

Because the boy has a terrifying secret - one that would just kill to get out.

The Girl from the Well is A YA Horror novel pitched as "Dexter" meets "The Grudge", based on a well-loved Japanese ghost story.
Auggie's Review

HORRIFYING. For the love of Pete! And SAD and just... wow. If you're a reader like myself who pushes through reluctance to read horror novels out of some really peculiar and bizarre curiosity then you'll find this book to be not only unsettling, but terrifying to boot.

Part of me like reading creepy books. The other part of me occasionally wonders why I put myself through the trauma. This book definitely made me ask myself the "Why do I do this to myself?" question. Which, in turn, proves to me that it did exactly what it was supposed to do.

I appreciate the new perspective of one of the most famous ghosts in the history of horror-dom. The kind of perspective that makes you feel sad and hopeful at the same time... where the monster is monstrous for reasons people can kind of understand even though it makes you uncomfortable to realize it.

I'm definitely interested in picking up the next book in this series, which released earlier this month.

If you're a horror book fan then this is a read for you.

Until Next Post,

Read On!
Auggie is the 28 year old whirlwind owner of Auggie-Talk. A Teen Librarian and bibliobibuli by nature as well as a (potentially obsessive) lover of Diana Wynne Jones and Neil Gaiman. One can normally find Auggie neck deep in reading, writing, or daydreaming (sometimes all three at once). She's also been known to drink too much caffeine and eat too many lemon flavored sweets.