GIF ADVENTURE AHEAD!


I rarely use GIFS in my posts. But I do find them fun, and
ocasionally approrpiate. I felt that for this particular post...
Many Many gifs were absolutely appropriate.

Giftastic!


Hosted by The
Broke and the Bookish
. For future Top Ten Tuesday topics & info on how to participate, click
here!
This week's top ten topic is:
Top Ten Characters Who are Fellow Book Nerds
1. Okay, this is the obvious one....

2. Oh oh oh oh oh. They smell so good!

3. And you too Miss Granger
4. Matilda

5. Jo March (Little Women)

6. Elizabeth Bennet (Pride and Prejudice)

7. I LOVE BOOKS, Sookie!

8. Klaus Baudelaire
9. Anne Shirley (Anne of Green Gables)
How does reading make you feel, Anne?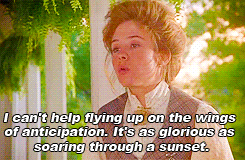 Me too. *sigh*
10. Bastian Balthazar Bux
What is your top ten this week?