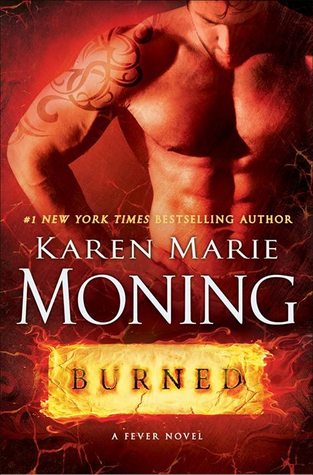 Title: Burned
Author: Karen Marie Moning
Genre: Fantasy/Supernatural
Publication: January 20, 2015
Pages: 512

Summary: It's easy to walk away from lies. Power is another thing.

MacKayla Lane would do anything to save the home she loves. A gifted sidhe-seer, she's already fought and defeated the deadly Sinsar Dubh—an ancient book of terrible evil—yet its hold on her has never been stronger.

When the wall that protected humans from the seductive, insatiable Fae was destroyed on Halloween, long-imprisoned immortals ravaged the planet. Now Dublin is a war zone with factions battling for control. As the city heats up and the ice left by the Hoar Frost King melts, tempers flare, passions run red-hot, and dangerous lines get crossed.

Seelie and Unseelie vie for power against nine ancient immortals who have governed Dublin for millennia; a rival band of sidhe-seers invades the city, determined to claim it for their own; Mac's former protégé and best friend, Dani "Mega" O'Malley, is now her fierce enemy; and even more urgent, Highland druid Christian MacKeltar has been captured by the Crimson Hag and is being driven deeper into Unseelie madness with each passing day. The only one Mac can depend on is the powerful, dangerous immortal Jericho Barrons, but even their fiery bond is tested by betrayal.

It's a world where staying alive is a constant struggle, the line between good and evil gets blurred, and every alliance comes at a price. In an epic battle against dark forces, Mac must decide who she can trust, and what her survival is ultimately worth.
Fever fans, Mac is back! I cannot begin to express how crazy excited I have been for the release of Burned over these past few weeks. It didn't help, of course, that I was eagerly awaiting a signed copy (courtesy of the wonderful man in my life) as well as frantically reading the entire series again in preparation of January 20th.
I have to say, Karen Marie Moning is a cruel woman to make her fans wait over TWO years for the next book in this series. It is quite lucky for me, however, that I only just began reading them all over the summer. That's not cheating…so stop giving me that disapproving look. It's simply a precautionary measure to ensure that I have one less book haunting the pre-order section of my Amazon account.
Burned immediately starts off where the deliciously dark sixth installment, Iced, left off…with our favorite spunky teen, Dani "Mega" O'Malley, finally coming face-to-face with Mac. For those of you that have been following along, you know that this has been a long time coming. Everything goes to hell in a very icy hand basket as Dani hops through a portal into Faerie with all the major players hot on her trail. Keep an eye out for a delectable twist that had me shutting the book to just say, "Wow."
All of our favorites are back in this Fae-ridden, just-beginning-to-thaw version of Dublin. Barrons, Ryodan, Christian, Lor, and even our favorite Keltar Druids...and I have to say, I absolutely love the fact that the stars from her Highlander Series keep making these cameos. Makes me want to read the entire series again for the…nope, I'm not going to admit how many times I've read them. Moving on.
Burned is yet another example of how expertly Moning can pull you into her world of wonderfully complex characters that can be heroes and beasts…quite frequently at the same time. Her imagery is so vibrant that even the dark scenes still wash over you with an effortless barrage of emotions and sensations that leave you completely stunned to the core.
I was beyond thrilled that we were finally able to catch a glimpse of some of what lies beneath the steel exterior of the members of the Nine. I especially love how such secrets are revealed and trust me…you are just going to have to go take a look for yourself. You'd never believe me otherwise.
5 very eager quills for Burned in hopes that such praise will ensure that the release date of the next book, Feverborn, will miraculously jump to…tomorrow maybe…no? Well a Fever Fanatic such as myself can only hope.


Until then, go catch the Fever book babes!
~Tori
Tori is a 24 year old tiny oddball of a woman who ardently loves rainy days and festive repartee. A college graduate, she holds a degree in communications with an emphasis on writing for media. Tori is currently an Assistant librarian working towards getting her Master's in Library Science. You will not find it surprising that this Auggie-Talk Co-Blogger is a passionate devotee of impulsive bookstore perusing and reading far past the point of exhaustion.