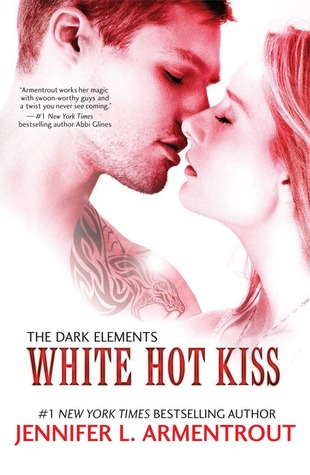 Title:

White Hot Kiss




Author: Jennifer L. Armentrout

Genre: YA Supernatural

Publication: February 25, 2014

Pages: 400




Summary:

One kiss could be the last.

Seventeen-year-old Layla just wants to be normal. But with a kiss that kills anything with a soul, she's anything but normal. Half demon, half gargoyle, Layla has abilities no one else possesses.

Raised among the Wardens—a race of gargoyles tasked with hunting demons and keeping humanity safe—Layla tries to fit in, but that means hiding her own dark side from those she loves the most. Especially Zayne, the swoon-worthy, incredibly gorgeous and completely off-limits Warden she's crushed on since forever.

Then she meets Roth—a tattooed, sinfully hot demon who claims to know all her secrets. Layla knows she should stay away, but she's not sure she wants to—especially when that whole no-kissing thing isn't an issue, considering Roth has no soul.

But when Layla discovers she's the reason for the violent demon uprising, trusting Roth could not only ruin her chances with Zayne… it could brand her a traitor to her family. Worse yet, it could become a one-way ticket to the end of the world.
When I started this book, I couldn't wait to see how, Layla, the sweet half gargoyle, half demon child that I met in Bitter Sweet Love, Dark Elements .05 was faring as a 17-year-old girl living in a house of Wardens, an ancient race of gargoyles that keep humans safe by hunting and killing the demons that make it topside. It broke my heart to see how her adopted "family" was scared to get too close as she could take their soul with a mere touch of her lips…a terrible thing to know that people have been scared of you since you were ten years old. Even worse to realize that, as a teenager, kissing is off limits for obvious reasons.
Then there is Zayne – her fierce protector (that she has been crushing on for years) who continues to call her Layla-bug. Armentrout perfectly creates the angst accompanied with trying to get a beloved boy to stop thinking of you as a child. But of course, we know that he thinks no such thing. Duh, she's a beautiful pixie that looks like she could be the daughter of Galadriel, the elf queen from Lord of the Rings. Of course, he is secretly carrying a torch. Being of the fair-haired gorgeous category himself, he has turned many a heads as a hot human and Warden.
Ah, yes mustn't forget Roth…as if he'd ever let you. What is Layla to do when she meets a sexy demon that keeps saving her from certain death…who can be kissed because, well no soul to speak of…can he be trusted? I very much so enjoyed how events unraveled with Roth, who is definitely harboring some delicious secrets. I have to say; I think Roth might have taken this round. Sigh, sorry Zayne. We will have to see if you can come back swinging in the next book.
Many scenes in White Hot Kiss were reminiscent of my beloved Supernatural. I can't tell you how much I adored knowing that bits of the Winchester's world was morphed into a new series by one of my favorite authors.
5 quills! Armentrout deserves no less! Now, my lovelies, I must depart. Stone Cold Touch is burning a hole on my TBR shelf and I simply cannot wait to see what happens next.
Happy Reading,
~Tori
Tori is a 24 year old tiny oddball of a woman who ardently loves rainy days and festive repartee. A college graduate, she holds a degree in communications with an emphasis on writing for media. Tori is currently an Assistant librarian working towards getting her Master's in Library Science. You will not find it surprising that this Auggie-Talk Co-Blogger is a passionate devotee of impulsive bookstore perusing and reading far past the point of exhaustion.