Hey Bookworms!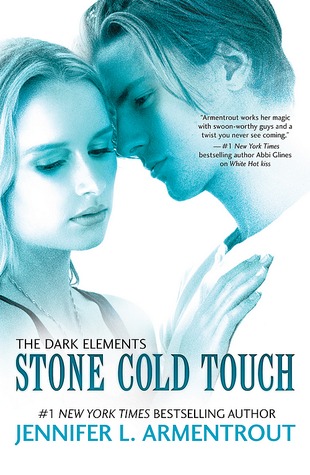 Title:

Stone Cold Touch




Author: Jennifer L. Armentrout

Genre: YA Supernatural

Publication: October 21, 2014

Pages:464




Summary:

Layla Shaw is trying to pick up the pieces of her shattered life—no easy task for a seventeen-year-old who's pretty sure things can't get worse. Her impossibly gorgeous best friend, Zayne, is forever off-limits thanks to the mysterious powers of her soul-stealing kiss. The Warden clan that has always protected her is suddenly keeping dangerous secrets. And she can barely think about Roth, the wickedly hot demon prince who understood her in ways no one else could.

But sometimes rock bottom is only the beginning. Because suddenly Layla's powers begin to evolve, and she's offered a tantalizing taste of what has always been forbidden. Then, when she least expects it, Roth returns, bringing news that could change her world forever. She's finally getting what she always wanted, but with hell literally breaking loose and the body count adding up, the price may be higher than Layla is willing to pay…
One of these days, I swear I am just going to stop reading a series until ALL the books are published. Okay…so we all know that is a big fat whopper of a lie…but come on! Six months! I have to wait another six months until the final installment in the Dark Elements trilogy is released. Couldn't just leave me a soft ending, could ya Armentrout? Oh no, you had to drop a bombshell of epic proportions

in my lap instead. Thick sigh with a frustrated growl on top.
Stone Cold Touch was bursting with so much action and tension that the rest of the world just never stood a chance at recapturing my attention until I was finished. I know I asked for Zayne to step up after reading White Hot Kiss, but even I was amazed at the "new" Zayne. As you surmised from the blurb, Roth is back and packing more secrets in his sinful and sexy demon arsenal of tricks. Poor Layla. She's going to have one heck of a time choosing between them. I would say that I don't envy her that…but those two deliver in the swoon-worthy guys department so…best of luck to her.
Another shout out to my love of all things Supernatural when I found out that Zayne drives…of all things…a cherry red Impala. Plus, my inner Buffy the Vampire Slayer fangirl would allow me to give this book no less than 5 quills. Who am I kidding, it's Jennifer Armentrout. Of course, I would fall in love with this book.
Now, sadly, I must return to rocking my brooding face as I begin constructing a time machine that can shoot me into the future to July 28th so that I can find out what's going to happen next in Every Last Breathe. Chances of success? Slim to none. But a girl can dream.
~Tori
Tori is a 24 year old tiny oddball of a woman who ardently loves rainy days and festive repartee. A college graduate, she holds a degree in communications with an emphasis on writing for media. Tori is currently an Assistant librarian working towards getting her Master's in Library Science. You will not find it surprising that this Auggie-Talk Co-Blogger is a passionate devotee of impulsive bookstore perusing and reading far past the point of exhaustion.