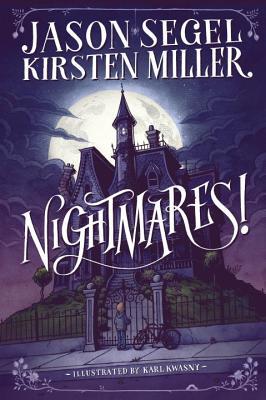 Title: Nightmares
Author: Jason Segel
Genre: Middlegrade Paranormal
Published: September 9, 2014

Pages: 368

Summary:

Jason Segel, multitalented actor, writer, and musician, teams up with New York Times bestselling author Kirsten Miller for the hilariously frightening, middle-grade novel Nightmares!, the first book in a trilogy about a boy named Charlie and a group of kids who must face their fears to save their town.

Sleeping has never been so scary. And now waking up is even worse!

Charlie Laird has several problems.

1. His dad married a woman he is sure moonlights as a witch.
2. He had to move into her purple mansion, which is NOT a place you want to find yourself after dark.
3.He can't remember the last time sleeping wasn't a nightmarish prospect. Like even a nap.

What Charlie doesn't know is that his problems are about to get a whole lot more real. Nightmares can ruin a good night's sleep, but when they start slipping out of your dreams and into the waking world—that's a line that should never be crossed.

And when your worst nightmares start to come true . . . well, that's something only Charlie can face. And he's going to need all the help he can get, or it might just be lights-out for Charlie Laird. For good.
Most certainly a fun read! This has been one of the best middlegrades I've read this year with a strong focus on facing fears and overcoming the darkness that you create for yourself.
I was laughing out loud at some of the antics of the Nightmare creatures, and I was about ready to scoop up a few of them to keep forever! If you can imagine the way you felt watching "Nightmare Before Christmas" for the first time, yeah, you may be rediscovering that feeling all over again with "Nightmares!". Some of these creepy, crazy, horrifying creatures actually aren't that bad. It's a job, a lifestyle, and their real goal? To help children face their fears, overcome them, and grow.
When a nightmare helps their child face their biggest fear, they can do what so many of them hope... retire and become a dream.
But there are some Nightmares that are scared to retire. What if the dreamworld isn't real? What if retiring means dying? The dreamworld and the Nightmares don't mix, so there's no way to be sure. Continuing to be a nightmare starts sounding pretty good and when President Fear comes along with a sketchy promise to Nightmares that they'll
never
have to die, things get a little sticky.
Charlie is up against some serious Creepers both in and out of sleep, but learns quite a few big lessons about holding on to misery and judging others unfairly.
Hilarious characters (a creepy clown and Medusa's son to name two) and a few TRULY frightening circumstances (bunnies with no faces, just huge mouths and sharp gnashing teeth. chasing you through your deserted and zombie infested hometown?!) make this one wild ride full of scares, laughs, and a few "Awww!" moments too!
Highly recommend for readers of all ages!
Auggie is the 28 year old whirlwind owner of Auggie-Talk, a part-time Reference Librarian with a degree in Anthropology and a nearly completed Masters in Library Science. A bibliobibuli by nature and a (potentially obsessive) lover of Diana Wynne Jones and Neil Gaiman. One can normally find Auggie neck deep in reading, writing, or daydreaming (sometimes all three at once). She's also been known to drink too much caffeine and eat too many lemon flavored sweets.