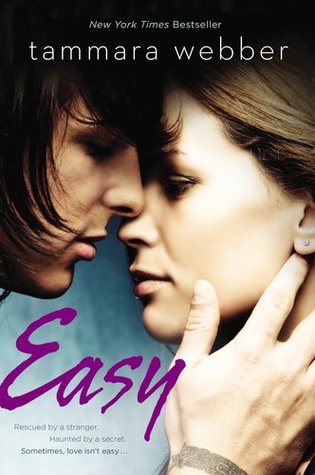 Title: Easy
Author: Tammara Webber
Genre: New Adult
Publication: November 6, 2012
Pages: 321

Summary:

When Jacqueline follows her longtime boyfriend to the college of his choice, the last thing she expects is a breakup two months into sophomore year. After two weeks in shock, she wakes up to her new reality: she's single, attending a state university instead of a music conservatory, ignored by her former circle of friends, and failing a class for the first time in her life.

Leaving a party alone, Jacqueline is assaulted by her ex's frat brother. Rescued by a stranger who seems to be in the right place at the right time, she wants nothing more than to forget the attack and that night - but her savior, Lucas, sits on the back row of her econ class, sketching in a notebook and staring at her. Her friends nominate him to be the perfect rebound.

When her attacker turns stalker, Jacqueline has a choice: crumple in defeat or learn to fight back. Lucas remains protective, but he's hiding secrets of his own. Suddenly appearances are everything, and knowing who to trust is anything but easy.
It's been a while since I have encountered a story that seemed to breathe such life back into me. It's as simple as that. Sweet, funny, and sensual…Easy captured my complete attention. The setting so resembled reality that there were moments of the book where I could simply close my eyes and be transported back to my college days. Nostalgia hit me and surrounded my thoughts for the two days it took me to gobble up this read. I was surprised by how quickly that I found myself becoming attached to the main characters. When I wasn't reading, I was thinking about them and very impatiently waiting for a few moments to slip back into their story.
Webber touches on the very serious topic of rape when the heroine, Jacqueline, is nearly assaulted in the beginning of the book. I was pleased to find that the issue was not just glossed over because Lucas saved her. She handled the telling quite well and allowed the reader to follow Jacqueline as she began to find power in herself.
I enjoyed watching the relationship between Jacqueline and Lucas grow as new mysteries and challenges presented themselves. It felt real…which so often is lacking when dealing with girl-meets-boy-post-breakup scenarios. Secrets, betrayal, heat, and heartbreak are expertly delivered to the reader in such a way as to ensure that everyone will find some moment that seems to be written just for them.
A very enthusiastic 4/5 quills for Easy. The second installment in the Contours of the Heart series, Breakable, has gently been mocking my attempts to leave it tucked safely away in my bag until I finished writing this review. Time to give in to temptation and bid you farewell.
Happy Reading Lovelies!
~ TORI
Tori is a 24 year old tiny oddball of a woman who ardently loves rainy days and festive repartee. A college graduate, she holds a degree in communications with an emphasis on writing for media. Tori is currently an Assistant librarian working towards getting her Master's in Library Science. You will not find it surprising that this Auggie-Talk Co-Blogger is a passionate devotee of impulsive bookstore perusing and reading far past the point of exhaustion.