And here it is lady's and gentlemen.
The review for the final book in the Lux series. Cry your tears with our dear Tori who dearly loved this series! Next stop? Who knows! But I'm sure there's more Jennifer L. Armentrout in the mix!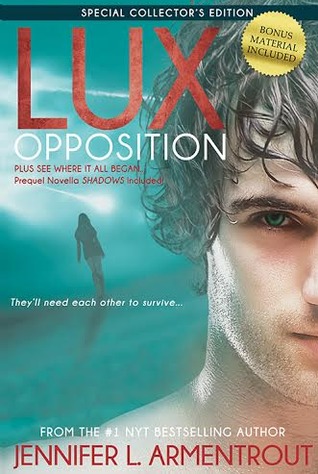 Title: Opposition

Author: Jennifer L. Armentrout

Genre: Young Adult Paranormal

Publication: August 5, 2014

Pages: 534


Synopsis:
Katy knows the world changed the night the Luxen came.

She can't believe Daemon welcomed his race or stood by as his kind threatened to obliterate every last human and hybrid on Earth. But the lines between good and bad have blurred, and love has become an emotion that could destroy her—could destroy them all.

Daemon will do anything to save those he loves, even if it means betrayal.

They must team with an unlikely enemy if there is any chance of surviving the invasion. But when it quickly becomes impossible to tell friend from foe, and the world is crumbling around them, they may lose everything— even what they cherish most—to ensure the survival of their friends…and mankind.

War has come to Earth. And no matter the outcome, the future will never be the same for those left standing.
Obsidian
nestled in the shelves of the library, I unknowingly found the first in a series that would quickly fall among my favorites. I completely DEVOURED the first four, only to discover that I had to wait another year to finally find out what was to become of Katy and Daemon. It was excruciating. Painful, I tell ya! As per my normal craziness, I decided to read them all again a month before
Opposition
was scheduled to release. Time got the better of me and I was only recently able to dive into the final installment.
I might be quite the little speed demon when confronted with a series. However, as we all know, you can only read a book for the first time once. Therefore, I was determined not to miss a single moment of Opposition due to my extreme excitement. So I got comfy and decided to take my time with this story. After all, Katy and Daemon deserved no less from me.
Intense is the absolute perfect word to describe
Opposition.
I felt like I was standing in a crowd of thousands of people in dead silence waiting for a superstar of epic proportions to step foot on the stage as I opened this book. Said star hit their first note as the lights flashed a bright multi-hue and the crowd simply erupted into a screaming frenzy. There…that is how my body felt while reading this over the past few days.
My heart certainly got tugged and teased with this story. It danced around in my chest and it even got broken a few times.
But undoubtedly, I wouldn't trade it for all the Starbursts in the world. Don't hate, they are my favorite after all.
Origin left us all gaping as thousands upon thousands of Luxen streamed from the sky invading Earth and Daemon, Dawson and Dee disappeared into their midst. Katy is left behind with Archer, Luc, and Beth to obsess over what will happen next right along with the rest of us. My best advice to you, dear booklings, is to settle in for a one crazy final ride because Armentrout did such an amazing job of exceeding all of my expectations for this book. I know I have been oh so timid about voicing my extreme love of her writing thus far, so just in case you missed it…this woman has got some skills!
5 out of 5 quills on this book and this series! I give my complete and ardent recommendation to all fans of this genre to add the Lux series to the tiptop of your reading list.
P.S. Once you have finished Opposition, do yourself a favor and go take a look at this:
Trust me, you'll be happy you did!
Happy Reading,
Tori
Tori is a 24 year old tiny oddball of a woman who ardently loves rainy days and festive repartee. A college graduate, she holds a degree in communications with an emphasis on writing for media. Tori is currently an Assistant librarian working towards getting her Master's in Library Science. You will not find it surprising that this Auggie-Talk Co-Blogger is a passionate devotee of impulsive bookstore perusing and reading far past the point of exhaustion.