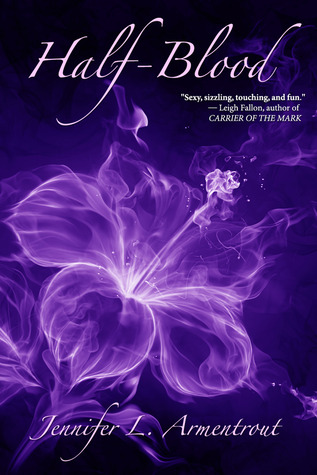 Title: Half-Blood

Author: Jennifer L. Armentrout

Genre: Young Adult Paranormal

Publication: October 18, 2011

Pages: 281



Synopsis



The Hematoi descend from the unions of gods and mortals, and the children of two Hematoi pure bloods have godlike powers. Children of Hematoi and mortals--well, not so much. Half-bloods only have two options: become trained Sentinels who hunt and kill daimons or become servants in the homes of the pures. Seventeen-year-old Alexandria would rather risk her life fighting than waste it scrubbing toilets, but she may end up slumming it anyway. There are several rules that students at the Covenant must follow. Alex has problems with them all, but especially rule #1:Relationships between pures and halfs are forbidden. Unfortunately, she's crushing hard on the totally hot pure-blood Aiden. But falling for Aiden isn't her biggest problem--staying alive long enough to graduate the Covenant and become a Sentinel is. If she fails in her duty, she faces a future worse than death or slavery: being turned into a daimon, and being hunted by Aiden. And that would kind of suck.
Devouring books by Jennifer L. Armentrout has certainly become a hobby of mine as of late. Upon finishing her Lux series, I only was able to allow myself a three-book pause before I simply couldn't take the waiting. I plopped down at the computer and ordered every book in her Covenant series knowing full well that I would have to own them all. Obsessive compulsive? Who me? Naw.
The prequel to the series, Daimon, was wonderfully constructed and left me itching to crack open the first book. However, I must say that I don't think that it needed to be separated from the first book. It was an incredibly short read and could have easily been placed at the beginning of Half-Blood. But perhaps that was my own impatience as I waited the terribly long two days for the rest of the books to arrive. And no, I am not crazy. I'm just a dedicated book lover of the extremely quirky persuasion. Just so we are clear.
Half-Blood was a fast-paced excursion into the lives of the descendants of gods. Here's the breakdown: god + human = pure blood descendent, pure blood + pure blood = pure blood descendent, pure blood + human = half blood. Needless to say, pures get to sit at the cool kid table if you get my drift. Halfs either prove themselves worthy of protecting pures or are destined to a life of mindless servitude. Them's the brakes.
Enter Alexandria, or Alex to her friends. I very quickly found myself liking this character. She's smart when she remembers to keep her mouth shut which is…let's face it…a not large amount of the time. She's sarcastic and isn't afraid to speak her mind. Gotta admit, I admire that in a girl. Alex has been away from the Covenant for three years when her mother is murdered and she finds herself back inside the elite school for descendants. She left behind friends and enemies alike and now she must prove that she has what it takes to stay. Armentrout created a character chockfull of some serious spunk who is absolutely ready to fight for her only chance at what she desperately wants: revenge.
Meet Aiden St. Delfi, a pure-blood and Alex's crush since her tween years. Oh and did I mention, completely off limits to Alex as he is a pure? He is a fiercely responsible soldier-type who is dedicated to training Alex so that she does not end up a servant. It doesn't take long before his rigid demeanor begins to waver and a crush worthy character begins to emerge. Then there is Seth, Apollyon and strongest half-blood in existence. His inhuman good looks do little to distract Alex from the fact that he is cocky and far too annoying for his own good.
I found that this book had a little bit of everything: a constant stream of edge of your seat moments, bits that tugged at my heart and had tears on the horizon, and characters so full of fire that I was transfixed. Now for those of you naysayers that are continuously saying that this book too closely parallels that of The Vampire Academy…I hate to say it…but Armentrout just does it better.
4/5 quills for Half-Blood. The second installment, Pure, is undoubtedly next on my reading list.
Happy Reading!
~ TORI
Tori is a 24 year old tiny oddball of a woman who ardently loves rainy days and festive repartee. A college graduate, she holds a degree in communications with an emphasis on writing for media. Tori is currently an Assistant librarian working towards getting her Master's in Library Science. You will not find it surprising that this Auggie-Talk Co-Blogger is a passionate devotee of impulsive bookstore perusing and reading far past the point of exhaustion.