Happy Friday, my little bibliophiles!
We've got a spooky book review for you to kick off October. *ominous ghost noises*
Ahem.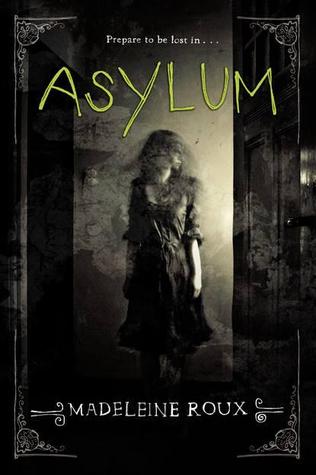 Title: Asylum
Author: Madeleine Roux
Genre: YA Thriller
Published: August 20, 2013
Pages: 313

Synopsis:

Asylum is a thrilling and creepy photo-novel perfect for fans of the New York Times bestseller Miss Peregrine's Home for Peculiar Children.

For sixteen-year-old Dan Crawford, New Hampshire College Prep is more than a summer program—it's a lifeline. An outcast at his high school, Dan is excited to finally make some friends in his last summer before college. But when he arrives at the program, Dan learns that his dorm for the summer used to be a sanatorium, more commonly known as an asylum. And not just any asylum—a last resort for the criminally insane.

As Dan and his new friends, Abby and Jordan, explore the hidden recesses of their creepy summer home, they soon discover it's no coincidence that the three of them ended up here. Because the asylum holds the key to a terrifying past. And there are some secrets that refuse to stay buried.

Featuring found photos of unsettling history and real abandoned asylums and filled with chilling mystery and page-turning suspense, Madeleine Roux's teen debut, Asylum, is a horror story that treads the line between genius and insanity.
I wanted to absolutely love this book, I truly did. It was most certainly entertaining and it kept me reading late into last night and had me picking up my kindle first thing this morning. I was definitely drawn in, but I was disappointed by the ending which somewhat ruined the whole experience for me.
Not to say that I don't believe others will FLIP over this book. I can think of a few readers who would snap up this work and then talk about it... incessantly.... over the next few weeks.
Things I loved:
This books is most CERTAINLY creepy. I mean spooky to the point where I actually considered putting it down for the night or risk having bad dreams. I didn't listen to my own worries and read on until my eyes refused to cooperate a moment longer and demanded rest.
I
did
have nightmares last night as a result of reading the book. Nothing too horrifying, but I was forced out of sleep one or two times and I didn't exactly feel relaxed this morning upon waking.
The utilization of photographs in combination with the text WAS really hard hitting.
The author does an AMAZING job of setting everything up for one of the creepiest experiences you'll ever have reading a YA book.
I would not agree that this book is for fans of "Miss Peregrine's Home for Peculiar Children", as "Asylum" was much more disturbing and dark.
The author knows suspense. Absolutely. That tingly feeling you get when you know something's about to happen, but you're not sure what, and you're not sure you want to find out... readers will encounter that. Brilliantly done.
Things that rubbed me wrong:
The Images:
The pictures didn't always match the text. There were a few pictures randomly thrown in that I had to pause at and consider. "Does this have anything to do with what's going on right now?" When the answer was no, I skipped along and the creepy photo lost some of its punch due to its irrelevance.
Some of the images seemed manipulated. I was expecting every image in the book to be original and unaltered but I felt that there were a few that were altered in SOME form (even a miniscule one) to create a more startling effect. Feeling that I was looking at original images that had been faked up a bit for the shock or creepy factor took away from them somewhat.
The Ending:
Ghost story? Psych Thriller? I didn't know in the beginning and that was half the fun. As the book continued I settled in quite happily to the "Psych Thriller" aspect. What was real? What wasn't? Someone was crazy.... what was going on? I kept waiting for the answer. I was reading for the answer!
But wait... 85% through the book and suddenly.... it's ghosts? Or, hold on, some kind of metaphysical merging of energies? There wasn't enough information to explain what had happened or what was going on. I was left feeling thoroughly confused and not at all satisfied.
This was probably done purposefully as there's a second book in the series. What I'm saying is that the build up (the majority of the book) was phenomenal, but the climax and conclusions were somewhat of a let down.
At the same time "Occam's Razor" (mentioned in the book) may have been the moving force behind the somewhat simplistic ending explanations. Occam's Razor basically states that in the presence of exceedingly complex alternatives and possibilities, the simplest explanation is often the correct one. So... ghosts. Right? Wrong? I HAVE NO IDEA.
I'm just not so sure that (if it's meant to be a redirect to the original idea of Occam's Razor) readers would catch the connection or find it riveting enough for the feelings of "AHA!" to overshadow the disappointment of a somewhat dud conclusion.
Guess I'll just have to read the next one to find out what the heck is actually going on.....
Clever you Ms. Roux.
Don't forget, darlings, the FALL READING CHALLENGE event is starting on Auggie-Talk. Be sure to sign up! The more you participate and support your peers the better your chance for prizes AND perks (like extra entries in all Auggie-Talk giveaways)
Until Next Blog,
Read On!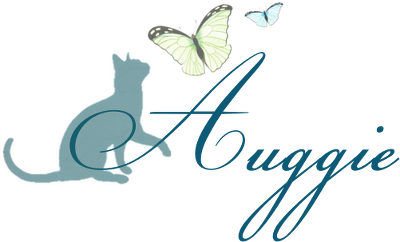 Auggie is the 27 year old whirlwind owner of Auggie-Talk, a part-time Reference Librarian with a degree in Anthropology and a nearly completed Masters in Library Science. A bibliobibuli by nature and a (potentially obsessive) lover of Diana Wynne Jones and Neil Gaiman. One can normally find Auggie neck deep in reading, writing, or daydreaming (sometimes all three at once). She's also been known to drink too much caffeine and eat too many lemon flavored sweets.