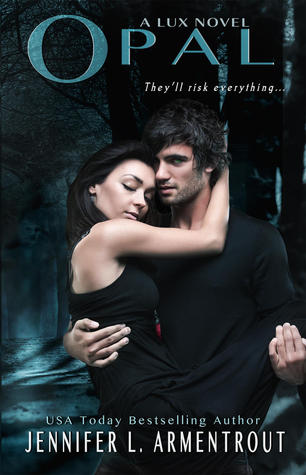 Title: Opal




Author: Jennifer L. Armentrout




Genre: Young Adult Paranormal




Published: December 11, 2012




Pages: 382




Synopsis:




After everything, I'm no longer the same Katy. I'm different... And I'm not sure what that will mean in the end. When each step we take in discovering the truth puts us in the path of the secret organization responsible for torturing and testing hybrids, the more I realize there is no end to what I'm capable of. The death of someone close still lingers, help comes from the most unlikely source, and friends will become the deadliest of enemies, but we won't turn back. Even if the outcome will shatter our worlds forever.

Together we're stronger... and they know it.
In the words of Katy, "Oh, holy alien babies everywhere!" The ending to Opal was…wait have to breathe…insanity! I had to bite back the urge to spit out my raspberry sweet tea when I read the last line and knew that I was going to have to WAIT to find out what happens until I could finish this review. Cliffhanger is an understatement!
So at this very moment my fingers have turned into tiny Tasmanian devils while I curb my enthusiasm to grab the next book in the series (which incidentally is sitting precariously close to my laptop), and calmly explain my continued infatuation.
If you haven't already gathered from my previous reviews of this series, I am [insert word that sounds a little less creepy than obsessed]. Armentrout continues to amaze as she delves deeper into the relationship between Katy and Daemon and somehow manages to throw in just the right amount of action to keep me transfixed. Seriously my eyes feel like they have just run across almost 400 pages today…oh wait…they did. Thus is the relationship between book and book lover so I'll take the twitches any day.
There are a lot of surprise returns in this installment that have you constantly wondering what will become of the lovely Luxens (plus Katie a.k.a. Hybrid). If you are dropping into this series in the middle, then you need to slap this review on your TBR shelf along with Obsidian and Onyx and back away very slowly. If not, here is the definite skinny.
Dawson (who we all were secretly hoping would return due to the epic swoon-worthiness associated with two gorgeous twins that together make up one heck of a specimen) has escaped from captivity and his home with his siblings. If you took the time and read Shadows, the prequel to the series, then you know Daemon isn't the first Luxen to break all the rules for the girl he loves. For Dawson, Bethany is worth everything and she is still imprisoned. So the fight is definitely ON!
Bad news too…Blake is back. Yes, those creepy crawlies under your skin are dancing the cha-cha right now for good reason. Our not-so-favorite Hybrid is back and will be sporting a new and inventive line of bologna and as we all know...bologna in a shiny package is still just bologna.
I give Opal 5 quills! Just face it…I cannot and will not give Armentrout any less on this series. I am far too enamored. Here is where I leave you, book babes!
Happy Reading!

Tori
Tori is a 24 year old tiny oddball of a woman who ardently loves rainy days and festive repartee. A college graduate, she holds a degree in communications with an emphasis on writing for media. Tori is currently an Assistant librarian working towards getting her Master's in Library Science. You will not find it surprising that this Auggie-Talk Co-Blogger is a passionate devotee of impulsive bookstore perusing and reading far past the point of exhaustion.