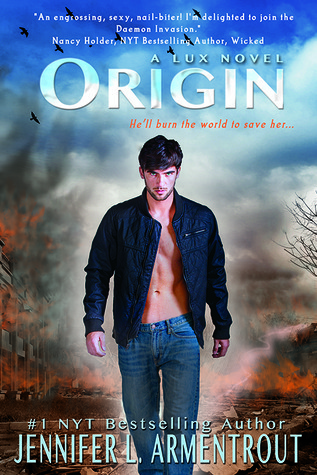 Title: Origin

Author: Jennifer L. Armentrout

Genre: Young Adult Paranormal

Published: August 27, 2013

Pages: 364


Synopsis:
Daemon will do anything to get Katy back.

After the successful but disastrous raid on Mount Weather, he's facing the impossible. Katy is gone. Taken. Everything becomes about finding her. Taking out anyone who stands in his way? Done. Burning down the whole world to save her? Gladly. Exposing his alien race to the world? With pleasure.

All Katy can do is survive.

Surrounded by enemies, the only way she can come out of this is to adapt. After all, there are sides of Daedalus that don't seem entirely crazy, but the group's goals are frightening and the truths they speak even more disturbing. Who are the real bad guys? Daedalus? Mankind? Or the Luxen?

Together, they can face anything.

But the most dangerous foe has been there all along, and when the truths are exposed and the lies come crumbling down, which side will Daemon and Katy be standing on?



And will they even be together?



I feel as if my brain and body are exceedingly tired after reading this book. W…O…W! That is all I have to say!
Just kidding, you know I would never do that to you. But I am quite serious in my assessment that this book is extremely high up on the "Holy-Freaking-Moly-Meter." Upon reading the last line, I had to close the book and slump very slowly in my chair until all my faculties could function normally again. When my chest finally slipped out of panic mode and my fingers finally unclenched, I just sat there slowly shaking my head at the events of Origin.
I know I probably shouldn't, but I really really want to say it…this book was bad-a**! Epic beat downs, explosions, and searing light beams just seemed to radiate off the pages as the continuation of the story unfolded. Never let it be said that Armentrout only caters to the female demographic. There was enough action in this book to have even the most dedicated naysayers of books with hot dudes on the cover to finally have to admit defeat!
Ah yes, mustn't forget the cover. I rarely take the time to gush about a cover, as it is such a miniscule part of the book as a whole.
But for
Origin
, I will bring my inner fangirl forth and let her impart some words of wisdom. The tag line, "He'll burn the world to save her," is particularly fitting considering that Daemon will do anything to find Katy and keep her safe and I do mean ANYTHING! The burning scenery all around the cover model is a
perfect
backdrop to the steely look of determination etched into "Daemon's" face.
For all those that are just now popping in, we are entering spoiler territory so you might want to vamoose posthaste. Opal left us all gaping at the closing door that left Katy trapped inside Daedalus and surrounded by Arum. I wanted to scream right along with Daemon who wakes to find that his family has knocked him out and placed him in the Luxen community to ensure that he won't go storming off after Katy and getting himself killed. Can I even explain the stupidity of that plan? For Daemon, nothing is more important than saving Katy so he happily chooses exile and leaves his family behind to save her.
Katy, meanwhile, is being held in a government facility somewhere in Arizona. As I have said before, her character is indeed one of my favorites in the YA genre. The pain that she endures is so utterly terrible that my skin is walking all over the place just thinking about it. She endures because she must and she knows that at the very least…Daemon is safe elsewhere.
Definitely be expecting some BIG changes in the relationships of all the characters involved and definitely keep an eye out for those that you would never dream would be capable of betrayal. I was certainly floored and experienced the jaw-dropping-to-the-floor-moment far more than once. There are secrets wrapped up in twists and sprinkled with lies in this book. Who is really telling the truth? You'll just have to dig into this one for yourself. I promise, you won't regret it.
5 quills my dears! Please refrain from any eye rolls until you have given this series a try. The 5th and final installment of The Lux series is screaming my name. So au revoir!
Until next time,
Tori
Tori is a 24 year old tiny oddball of a woman who ardently loves rainy days and festive repartee. A college graduate, she holds a degree in communications with an emphasis on writing for media. Tori is currently an Assistant librarian working towards getting her Master's in Library Science. You will not find it surprising that this Auggie-Talk Co-Blogger is a passionate devotee of impulsive bookstore perusing and reading far past the point of exhaustion.