The lovely and ever so wonderful contributor Tori has another review for us today on a series that she is OVER THE MOON about. Check it!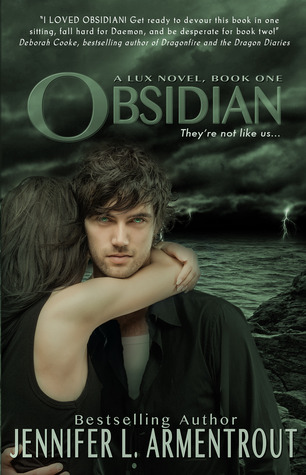 Title: Obsidian





Author: Jennifer L. Armentrout





Genre: Young Adult Paranormal





Pages: 335





Publication: May 8 2012





Synopsis:




Starting over sucks.





When we moved to West Virginia right before my senior year, I'd pretty much resigned myself to thick accents, dodgy internet access, and a whole lot of boring... until I spotted my hot neighbor, with his looming height and eerie green eyes. Things were looking up.





And then he opened his mouth.





Daemon is infuriating. Arrogant. Stab-worthy. We do not get along. At all. But when a stranger attacks me and Daemon literally freezes time with a wave of his hand, well, something... unexpected happens.





The hot alien living next door marks me.





You heard me. Alien. Turns out Daemon and his sister have a galaxy of enemies wanting to steal their abilities, and Daemon's touch has me lit up like the Vegas Strip. The only way I'm getting out of this alive is by sticking close to Daemon until my alien mojo fades.





If I don't kill him first, that is.




I expected the draw of a story about aliens hiding in West Virginia to be miniscule at best. But I eventually was forced to swallow those words with a loud and audible "gulp" after I met Daemon Black, the hot (alien) boy next door.


One scene between the two main characters was all it took for me to be reeled in beyond belief. Obsidian was my first Jennifer L. Armentrout book and I was not disappointed. She has created two characters with such insane chemistry together and continuously intriguing evolution singularly that I was beyond impressed.


Obsidian is the story of Katy Swartz, a normal teen with an exceptional aptitude of getting herself into trouble. Enter Daemon Black, "trouble" wrapped up in a sinful package of devastating good looks and an infuriatingly arrogant way of baiting Katy until she is just about ready to stab him…or kiss him, she never can really decide.


After an exceedingly prickly introduction, Katy can't imagine that Daemon would ever think twice about her. But after his bubbly and contagiously happy sister, Dee, becomes determined that she and Katy will be fast friends…well all bets are so off.


Daemon is determined to stay away from the fiery human that could wreck his entire world. Good intentions and all that jazz, until one night Katy stumbles out in front of a seven-ton truck and her neighbor has no choice but to freeze…everything. His true nature is revealed and his antics light Katy up like a supernova and guarantee that Katy's life will never be the same.


I enjoyed Armentrout's take on the alien dynamic. It was fresh and "hot" and enough to make me want to learn more about the Luxen. However, the story is very much so one of those "new girl moves to town and falls in with the group of non-humans after she falls for the haughty bad boy leader." But alas, I just don't care. I fell for the characters again and again throughout the book. They are snarky and sweet and altogether iconic of what young love should encompass.


I give Obsidian a very enthusiastic 5 quills. Since of course I had to wait until the next day to dash to the book store and buy the rest of the series, I made sure to flaunt Daemon in front of as many book-loving friends as possible. I am diving head first into the second installment of the Lux series, Onyx so please do not disturb. The world will just have to wait.
~Tori
Tori is a 24 year old tiny oddball of a woman who ardently loves rainy days and festive repartee. A college graduate, she holds a degree in communications with an emphasis on writing for media. Tori is currently an Assistant librarian working towards getting her Master's in Library Science. You will not find it surprising that this Auggie-Talk Co-Blogger is a passionate devotee of impulsive bookstore perusing and reading far past the point of exhaustion.