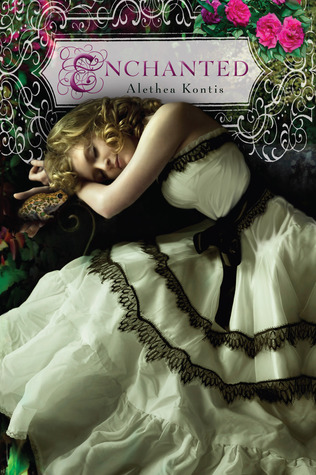 Title:

Enchanted (Woodcutter Sisters #1)

Author:Alethea Kontis

Genre: YA Fantasy/Fable-Twist

Pages: 308

Publication Date:May 8, 2012


Synopsis:



It isn't easy being the rather overlooked and unhappy youngest sibling to sisters named for the other six days of the week. Sunday's only comfort is writing stories, although what she writes has a terrible tendency to come true.

When Sunday meets an enchanted frog who asks about her stories, the two become friends. Soon that friendship deepens into something magical. One night Sunday kisses her frog goodbye and leaves, not realizing that her love has transformed him back into Rumbold, the crown prince of Arilland—and a man Sunday's family despises.

The prince returns to his castle, intent on making Sunday fall in love with him as the man he is, not the frog he was. But Sunday is not so easy to woo. How can she feel such a strange, strong attraction for this prince she barely knows? And what twisted secrets lie hidden in his past—and hers?
Fantastic! Highly Recommend!
Ever wonder where fairytales come from?

It's been a while since I've met a book with this much spunk! Creative, intelligent, and even a little wacky, "Enchanted" will have both youth and adults imagining themselves pirates, paupers, and princesses. Alethea Kontis masterfully weaves together the favorite fairytales of childhood into one big "This probably could have happened, almost certainly" origin story.

The entire epic adventure is focused on the unique concept that all of the fairytales we've come to know and love originated from a single family and the unbelievable adventures of their 7 daughters.

It all starts with Sunday, a seventh daughter of a seventh daughter, who couldn't be more sure that she is the plainest of her 6 sisters. Awkward, bumbly, with no particular special talent. Well, aside from the fact that her stories are magic and what she writes can suddenly become very real in very unexpected ways. No biggie.

She unwittingly sets off the great adventure when she befriends a very special frog setting into motion a cascade of outstanding events which include a royal ball, a royal marriage, and a visit from an unexpected relative who holds the answers to the sister's odd abilities.

Cue evil king.

We've got talking animals, magic dresses, foul fairies, enchanted geese, and a giant beanstalk. It's all here, wrapped up in a pretty little package for all fairytale lovers to enjoy.

Might I mention that there are also some FANTASTIC underlying themes regarding family-ties, the love of a mother, and the importance of believing in one's own uniqueness? It's all there and I can officially say that I am in LOVE with this book.

A very strong five out of five.




Until Next Blog,

Read On!