Happy Tuesday, springletts!
Review for you today on a really good contemporary YA. Enjoy!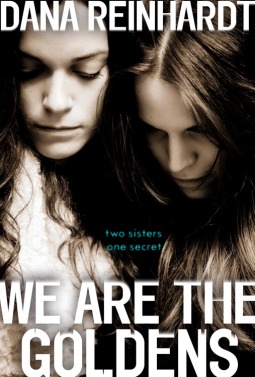 Title:

We Are The Goldens

Author: Dana Reinhardt

Genre: YA

Pages: 208

Publication Date: May 27, 2014


Synopsis:



Nell knows a secret about her perfect, beautiful sister Layla. If she tells, it could blow their world apart.

When Nell and Layla were little, Nell used to call them Nellaya. Because to Nell, there was no difference between where she started and her adored big sister ended. They're a unit; divorce made them rely on each other early on, so when one pulls away, what is the other to do? But now, Nell's a freshman in high school and Layla is changing, secretive. And then Nell discovers why. Layla is involved with one of their teachers. And even though Nell tries to support Layla, to understand that she's happy and in love, Nell struggles with her true feelings: it's wrong, and she must do something about it.
"We Are The Goldens" was not what I was expecting. It was probing, and heartbreaking, and full of personal and moral dilemmas. The reader is dragged into the inner turmoil of a young Freshman, Nell, whose love for her sister, Layla, is put to the test in an extreme way. What's the right thing to do when someone you love is spiraling out of control?
And it's not just Layla. Nell is facing her own struggles. Rumors, cruel boys, and a friendship that's slowly but surely changing into something she never expected.
The author captures the trials of being a teen navigating the treacherous waters of love and identity in a gritty and unexpected way. She throws open the door on the topic of predators, and not the obvious ones. She brings up the issue of the predators that lurk in attractive skin, kind smiles, and pretty words. At the same time Reinhardt makes a solid statement about the importance of knowing that sometimes a secret is a dangerous thing to keep and speaking up is the only way to set things right, regardless of the consequences.
Readers, both young adults and adult, will be able to relate to the potent emotions relayed in "We Are The Goldens" and memories of all of those times you were caught between what you knew was right and your sense of loyalty will come easy.
This book was beautifully written, engaging, and thought provoking. My only qualm was that it ended too abruptly and I was left wondering if Nell ever really did manage to find the courage to"lovingly" betray her most beloved person. The reader is, however, left with a sense of hope that things could be set right. A great teen read that really hits right in the heart of the difficulties of high school romance and being a not-yet-adult in an increasingly adult world.
Until Next Blog,
Read On!