Happy Wednesday love doves!
Lot's to do! Lot's to do! So let's get to doing it!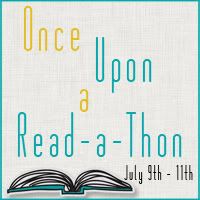 Today is the last day of the ONCE UPON A READ-A-THON adventure.
So it looks like I'm going to be hitting my goals right about where I expected. I finished "Enchanted Glass" and will be reading "Witches of East End" today. If I can finish that then I will begin on "Angel Eyes". How are all you other bookworms doing?
Today's mini challenge for OURead-A-Thon is hosted by
The Reader Bee
.
The challenge consists of just one simple question...
What is/was your most anticipated book for 2012?
MY ANSWER:
I've been a Sookie Stackhouse fan for years. Though there are NUMEROUS books that I'm anxiously awaiting in 2012 (or that I anxiously awaited earlier this year) this is the book that I was tapping my fingers over the most. I per-ordered the book and when May 1st hit I was at the door.
Sookie is like... my best friend. I couldn't stand her up!
* 200 Follower Giveaway! *
I've reached 200 Followers and I am so completely grateful! Each and every one of you drive me to make this blog the best it can be and I am happy to update because of you. I look forward to my blog because all of you have expressed your support.
a Rafflecopter giveaway
This Giveaway will be going on until AUGUST 9. So you guys have at it!
Every week Auggie-Talk features
WEDNESDAY WISHLIST
. On Wednesday I list 5 books that are on my wish-list along with a little blurb about why I want to read/own them.
What are you wishing for? Link up at the bottom of this post and a GIVEAWAY might result!
*Hourglass*
Title: Hourglass
Author: Myra McEntire
Genre:
YA Paranormal
Publication:
June 14, 2011
Pages:
387

Synopsis:
One hour to rewrite the past . . .

For seventeen-year-old Emerson Cole, life is about seeing what isn't there: swooning Southern Belles; soldiers long forgotten; a haunting jazz trio that vanishes in an instant. Plagued by phantoms since her parents' death, she just wants the apparitions to stop so she can be normal. She's tried everything, but the visions keep coming back. So when her well-meaning brother brings in a consultant from a secretive organization called the Hourglass, Emerson's willing to try one last cure. But meeting Michael Weaver may not only change her future, it may change her past.

Who is this dark, mysterious, sympathetic guy, barely older than Emerson herself, who seems to believe every crazy word she says? Why does an electric charge seem to run through the room whenever he's around? And why is he so insistent that he needs her help to prevent a death that never should have happened?
Why I Want to Read:
First of all, the cover is intriguing. Then you've got a tragic young woman seeing ghosts and trying to right a tragedy of her past. In general I'd say that there is the possibility of a really good read here.
*Shadow of Night*
Title: Shadow of Night
Author: Deborah Harkness
Genre:
Fantasy
Publication:
July 10, 2012
Pages:
584

Synopsis:
"Together we lifted our feet and stepped into the unknown"—the thrilling sequel to the New York Times bestseller A Discovery of Witches

Deborah Harkness exploded onto the literary scene with her debut novel, A Discovery of Witches, Book One of the magical All Souls Trilogy and an international publishing phenomenon. The novel introduced Diana Bishop, Oxford scholar and reluctant witch, and the handsome geneticist and vampire Matthew Clairmont; together they found themselves at the center of a supernatural battle over an enchanted manuscript known as Ashmole 782.

Now, picking up from A Discovery of Witches' cliffhanger ending, Shadow of Night plunges Diana and Matthew into Elizabethan London, a world of spies, subterfuge, and a coterie of Matthew's old friends, the mysterious School of Night that includes Christopher Marlowe and Walter Raleigh. Here, Diana must locate a witch to tutor her in magic, Matthew is forced to confront a past he thought he had put to rest, and the mystery of Ashmole 782 deepens.
Why I Want to Read:
It's the follow up of " A Discovery of Witches". Need I say more?
*Scarlet*
Title: Scarlet
Author: A.C. Gaughen
Genre:
YA Fantasy
Publication:
February 14, 2012
Pages:
292

Synopsis:
Many readers know the tale of Robin Hood, but they will be swept away by this new version full of action, secrets, and romance.

Posing as one of Robin Hood's thieves to avoid the wrath of the evil Thief Taker Lord Gisbourne, Scarlet has kept her identity secret from all of Nottinghamshire. Only the Hood and his band know the truth: the agile thief posing as a whip of a boy is actually a fearless young woman with a secret past. Helping the people of Nottingham outwit the corrupt Sheriff of Nottingham could cost Scarlet her life as Gisbourne closes in.

It's only her fierce loyalty to Robin—whose quick smiles and sharp temper have the rare power to unsettle her—that keeps Scarlet going and makes this fight worth dying for.
Why I Want to Read:
I love retold fables and fairytales. Robin hood was one of my favorites growing up, so I'm eager to see how this one plays out.
*Everneath*
Title: Everneath
Author: Brodi Ashton
Genre:
YA Mythology
Publication:
January 24, 2012
Pages:
370

Synopsis:
Last spring, Nikki Beckett vanished, sucked into an underworld known as the Everneath, where immortals Feed on the emotions of despairing humans. Now she's returned—to her old life, her family, her friends—before being banished back to the underworld... this time forever.

She has six months before the Everneath comes to claim her, six months for good-byes she can't find the words for, six months to find redemption, if it exists.

Nikki longs to spend these months reconnecting with her boyfriend, Jack, the one person she loves more than anything. But there's a problem: Cole, the smoldering immortal who first enticed her to the Everneath, has followed Nikki to the mortal world. And he'll do whatever it takes to bring her back- this time as his queen.

As Nikki's time grows short and her relationships begin slipping from her grasp, she's forced to make the hardest decision of her life: find a way to cheat fate and remain on the Surface with Jack or return to the Everneath and become Cole's...
Why I Want to Read:
I'm very excited to read this book so that I can draw some parallels which I'm already starting to see in the synopsis. I'm interested to see how much this book is myth based and whether or not the twists are as creative a they seem.
*Dark Companion*
Title: Dark Companion
Author: Marta Acosta
Genre: YA Fantasy
Publication: July 3, 2012
Pages: 368

Synopsis: When foster teen Jane Williams is invited to attend elite Birch Grove Academy for Girls and escape her violent urban neighborhood, she thinks the offer is too good to be true. She's even offered her own living quarters, the groundskeeper's cottage in the center of the birch grove.

Something's not quite right about the school -- or is it Jane? She thinks she sees things in the birch grove at night. She's also beginning to suspect that the elegant headmistress and her sons are hiding secrets. Lucky is the gorgeous, golden son who is especially attentive to Jane, and Jack is the sardonic puzzling brother.

The school with its talented teachers and bright students is a dream for a science and math geek like Jane. She also loves her new friends, including hilarious poetry-spouting rich girl, Mary Violet. But the longer Jane stays at Birch Grove, the more questions she has about the disappearance of another scholarship girl and a missing faculty member.

Jane discovers one secret about Birch Grove, which only leads to more mysteries. What is she willing to sacrifice in order to stay at this school...and be bound to Birch Grove forever?
Why I Want to Read:This actually seems like a decent storyline, though it could be said that it's been done before I have a feeling that this author might have taken a much more interesting view of the played out "mysterious boarding school" set up. We'll see!
That's all for this week's Wednesday Wishlist guys and dolls!

See you tomorrow for a review!

Until Next Blog,

Read On!

~A.