Note: Please excuse me while I adjust some of the presentation style. I was unaware that many PC's did not support the "flowery" title decorations.
Happy Saturday dearlings!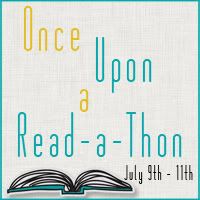 Once Upon a Read-A-Thon starts this next week. I'll be posting up a little kick-off post along with the Monday review. So stay tuned! This is going to be a fun one!

Last week we began July's

TRILOGY TUESDAY
and covered "Howl's Moving Castle." This next week the review will be over the second book in the trilogy "Castle in the Air". The following week will be the review on the third book "House of Many Ways." If you want to keep up with the reviews here are the links to buy for "Castle in the Air" and "House of Many Ways" by Diana Wynne Jones.
CASTLE IN THE AIR

Remember: IF YOU HAVE AN AUTHOR OR TRILOGY YOU WOULD LIKE TO SEE FEATURED ON AUGGIE-TALK PLEASE FEEL FREE TO E-MAIL WITH YOUR REQUEST. WE'RE HAPPY TO FEATURE YOUR FAVORITES!



Week in Review
* REVIEW *

*
"The Seer of Shadows"
*
*
AVI
*
*******************

Title: The Seer of Shadows
Author: AVI
Genre: Middlegrade Paranormal
Publication: March 25, 2008
Pages: 208

Synopsis: Newbery Medalist Avi weaves one of his most suspenseful and scary tales--about a ghost who has to be seen to be believed and must be kept from carrying out a horrifying revenge.
The time is 1872. The place is New York City. Horace Carpetine has been raised to believe in science and rationality. So as apprentice to Enoch Middleditch, a society photographer, he thinks of his trade as a scientific art. But when wealthy society matron Mrs. Frederick Von Macht orders a photographic portrait, strange things begin to happen.
Horace's first real photographs reveal a frightful likeness: it's the image of the Von Machts' dead daughter, Eleanora.
Pegg, the Von Machts' black servant girl, then leads him to the truth about who Eleanora "really" was and how she actually died. Joined in friendship, Pegg and Horace soon realize that his photographs are evoking both Eleanora's image and her ghost. Eleanora returns, a vengeful wraith intent on punishing those who abused her.
Rich in detail, full of the magic of early photography, here is a story about the shadows, visible and invisible, that are always lurking near.
*************************
Auggie-Talk Quill Rating
*************************
Set during the time when Abraham Lincoln was president, slavery just abolished, the civil war ended, and photography a new and mysterious technology AVI presents us with Horace, a young boy apprenticing with Mr. Middleditch the local photographer. As a logical, practical, and ethical boy he is unnerved by Mr. Middleditch's scheme to swindle the local grieving with double exposed pictures featuring images of their deceased loved ones.
But, something's very strange. There's an image that shouldn't be there. A true ghostly figure that only Horace can see. An angry ghost. A ghost out for revenge. A shadow of the person it had been in life. How does he come to terms with this ability, put the tormented ghost to peace, and maintain his sanity all at the same time?
Of course, this is a middlegrade book so you go in not expecting too much from it, but hoping that there's at least a good story there. Well, my hope paid off and this was a most charming book to read. As a child I would have been shivering as I read, thrill creeping up my spine at the ghosts, the shadows, and the intrigue. As an adult I am not nearly as moved by the creepiness of the book, but I appreciate it just as much.
AVI is a spectacular children's author and his books are perfectly constructed to appeal to the adventurous side of young people. "The Seer of Shadows" was a fantastic ghost story with an even more fantastic ending, because it was not necessarily a happy one.
AVI was sure to place in his story an underlining theme of respecting human dignity, human rights, which cornered on the concept of human equality despite race or class differences. AVI makes sure to point out that it is not the color of your skin that determines who you are as a person using Pegg and Horace as prime examples of two people who are incredible for who they are not how they look.
I will definitely be keeping this one for my future kiddos to read.
I certainly recommend this book to all of you readers out there who like a good, quick, paranormal mystery to perhaps read on a rainy afternoon.
Powell's Books: $4.95
Amazon: $6.99
(No eBook version available)
Auggie-Talk's 2012 Heavenly Challenge
Prizes? YES!
To join the challenge and view the prizes, rules, and book lists click here.
That's all for this Stardust Saturday, peach blossoms!
Tune in tomorrow for IMM # 9.
Until Next Blog,
Read On!
~A.