Hello my little sunflowers!
Today is a special post because today is the first day of the 3 day
ONCE UPON A READ-A-THON.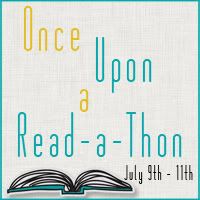 This fun little adventure is hosted by Lori at
Pureimagination
, Angela at
Reading Angel
, and Candace at
Candace's Book Blog
.
My personal challenge is 3 books. 1 book per day. Normally this would be easy, but this year's Once Upon a Read-a-Thon falls right on a few days where I'm doing wedding things the majority of the day. That leaves little time for reading, which means that 3 books will be pushing it. But I'm going to try!
Anyway, the three book that I'm going to tackle during this Read-a-Thon are:
UPDATE: This one is slow going. Had to go pick up my wedding dress, write Thank You cards, do a few things at our new little house (like feed Ms. O'leary), and otherwise just get stuff done! But now it's almost 10pm and I'm ready to settle in and get this one read!
Update: I didn't realize this was a comic! Well, it's interesting anyway and an easy read! Almost done!
If I'm able to get to more (which is, of course, the goal since this is a self-challenge!) I'll be sure to post them up as well.
Alright *claps hands to get everyone's attention*. Here we go love doves!
First off! There are MINI CHALLENGES! The mini challenge I will be participating in today is hosted by
IB Book Blogging
.
For this challenge I have to answer two questions regarding covers. Here we go!
Once Upon a Read-A-Thon Mini Challenge!
Question 1:
What is your favorite cover that has been revealed this summer and why? Post a link or picture of the cover if you want.
Answer:
Let's see, suppose that I'll probably have to go with "BITTERBLUE" the 3rd book in the Graceling series. All of the Graceling book covers have been fantastic. I like this on in particular because of the style, colors, and lack of a solid human form. Yes, you can see the girl's face, but just barely and at first all you can see is her eye through the keyring.
This cover looks magical, mysterious, and exciting. If I found this book while running my fingers across a book shelf I would feel compelled to pick it up.
Question 2:
Do you rely on the cover to help you choose whether you want to read a book or not?
Answer:
I'm afraid that I can't help but pass miniscule judgement on a book by the cover that it boasts. If the cover is really poorly done, I have to wonder what the author was thinking and whether or not that taste for style is going to be represented in the book.
However, I know that there are plenty of writers out there who have a better skill in judging beauty than they do of writing a book. So just because the cover is lovely doesn't mean the book is good... but a nice cover helps.
I rarely ever pick up books with covers of teenage girls/boys embracing, looking at each other longingly, or with their actual faces on the cover at all. Honestly, I find these books repellant personally because I feel that all I'm going to find is a story of a young girl falling in love with a young boy, woohoo, done. No other plot. Now, I know that's not always the case! That's why I love reading other people's reviews! If a reviewer I trust says the book was good, I'll pick it up anyway despite.
* REVIEW *

*"Masque of the Red Death"*
* Bethany Griffin *
*******************
Title:
Masque of the Red Death
Author:
Bethany Griffin
Genre:
Dystopian
Publication:
April 24, 2012
Pages:
319
Synopsis:
Everything is in ruins.

A devastating plague has decimated the population. And those who are left live in fear of catching it as the city crumbles to pieces around them.

So what does Araby Worth have to live for?

Nights in the Debauchery Club, beautiful dresses, glittery make-up . . . and tantalizing ways to forget it all.

But in the depths of the club—in the depths of her own despair—Araby will find more than oblivion. She will find Will, the terribly handsome proprietor of the club. And Elliott, the wickedly smart aristocrat. Neither boy is what he seems. Both have secrets. Everyone does.

And Araby may find something not just to live for, but to fight for—no matter what it costs her.
*************************
Auggie-Talk Quill Rating
*************************
This one was a hard book to rate. There are so many reasons why I think this book deserves a 2/5 but then I actually think I'm going to pick up the next book in this series when it comes out. Not excitedly necessarily, but the ending was good enough that I'd want to read the next book.
So, I have to find myself at a 3/5 for this one.
A couple of things...
The main character of this book, Araby, is boring, flat, dull and completely lifeless. There is nothing interesting or unique about her at all. If I met someone like her, anywhere, I would NOT want to be around her. She would make me extremely uncomfortable with her listlessness. She's only interesting because of the surrounding characters and her qualms with the two love-interests.
There were unnecessary moments of weirdness. When I say "weirdness" I'm referring to a raunchy scene that Araby witnesses in a club that was barely a few sentences long and to me... completely unnecessary to the plot or the circumstance the characters were in at the time. I don't know if the author thought she'd be gratifying the raging hormones of the readers or what but I thought it pointless. I'm no prude, and I enjoy some romance just as much as the next girl, but "We haven't mentioned sex in a while, let's just throw it in somewhere!" should never be a factor in constructing a paragraph,
especially
when no other part of the book has included that. That's my humble opinion, so take it or leave it as you will.
It just keeps coming back to Araby... I don't like her as a character. She wouldn't have been able to stand alone in any way. She has to have the constant uphold of her fellow characters or there's no spice at all.
What I liked:
Griffin's dystopian world is pretty intense. I can feel the desperation of the landscape in her imagery. She manages to put quite a bit of creepiness in just the right places.
Griffin also did a tremendous job in making the two love-interest situations really awkward and hard to deal with. There will definitely be a TEAM ELLIOT / TEAM WILL thing going on with this book.
The betrayal part, that was pretty good. Added a bit of needed "oomph" to the dwindling story line.
I was bored through 60% of this book. The 40% that was not boring to me was close to the end when everything was actually happening. I read the last 60 or so pages in a rush because it was actually getting interesting. Then it was over. Pretty good construction of the ending on the authors part though, because it did get me wanting to read the next one.
Oh. And the cover is fantabulous!
Anyway. This book wasn't terrible. Definitely readable. Most of my opinion about the main character is... well... my opinion, so remember to read the book for yourself if you were interested. You may not agree with me! If you don't, I'd love to hear why! I enjoy good book discussions you know.
Well, then!
Masque of the Red Death
by Bethany Griffin
Powell's Books: $17.99
Amazon: $10.98
Kindle: $9.99
Nook: $9.99
That's all for today my bonnie readers!
I'll see you tomorrow for another TRILOGY TUESDAY!
Until Next Blog,
Read On!
~A.